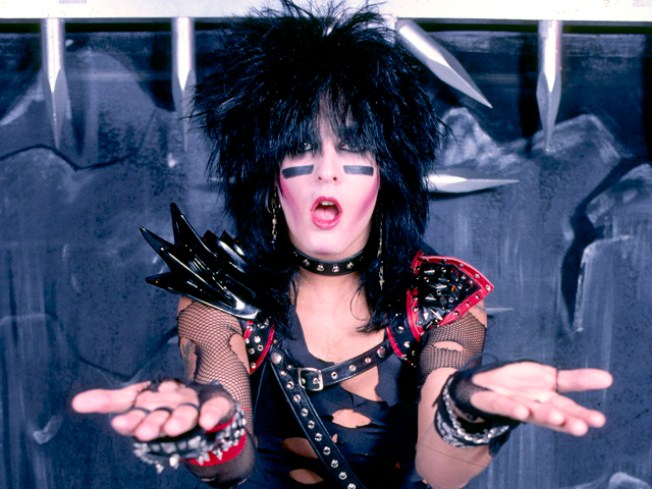 This is a tale that might strain credulity, but extensive wading through first hand interviews and snippets from those that were there at the time seem to bear it out:
"There was a fake Nikki Sixx in Motley Crüe "

That is a fairly mind blowing idea. I mean, bands don't go out and just replace a guy and don't acknowledge it's someone new, right? (Leaving aside Tommy Thayer and Eric Singer's 21st century masquerading in Ace and Peter's makeup in Kiss, and Vinnie Vincent's first uncredited live appearances in Kiss in Ace's make-up as Ace for real, this trickery is mostly limited to Kiss)
I first became aware of this event long before anything was in print. Working in a heavy metal  record store outside of Boston, my colleagues and I were on the cutting edge of the new resurgence of metal in the early 80's. We had access to most new releases as 'not for sale' radio promos before they were released or fresh of the boat import albums unavailable in the States; large radio station programmers and concert promoters would drop by to gossip, all of the British music papers hit us early-this store was a nexus of informed people. One close 'very metal' friend (who was convinced early on of Manowar's greatness) and I had a conversation about a recent Motley Crüe video. We'd both independently noticed something weird: some shots in it just didn't look like Nikki Sixx. Of course it had to be him, but how had he grown so doughy and pudgy so quickly? He seemed to be a different height as well, shorter. Other close friends at the time also had noticed Nikki….just didn't look like Nikki.   Others also noticed. From a website linked below:
"I do not know if the story is true or not. I love the Crue, however around the time of Theatre of Pain i had a photo from one of the rock mags showing Nikki in the black and white striped suit he was slightly pulling his pants down to show a tattoo of a pair of lips. In this photo Nikki's lower teeth were slightly crooked and did not match earlier photos of Sixx. Was Matt just hired for a photo shoot or is his story true? Who knows? However even though i'm a huge Crue fan i know they are not saints and this could have happened. Maybe it didn't, but i do know that whoever was in that picture was not really the same Nikki Sixx who was featured in photos from the Too Fast for Love era."
But…..It would be insane to think it wasn't him. So, what's the deal?

Kerrang!
It all started with the March 1988 issue of Kerrang. In the upper right corner was the tantalyzing 'Nikki Sixx Shock' tagline. Wondering what this could be, I waded into a tale that was very hard to believe. This guy Matthew Trippe was claiming he replaced Nikki Sixx in Motley Crüe when the 'real Nikki', Frank Feranna was nearly killed in a car crash, and was out of circulation. With the band quickly on the rise, supposedly Mick Mars had approached Trippe at the Troubador in Hollywood….and there our tale begins.
Of course, my co workers and I immediately turned to this section as soon as we unpacked the issue from the box. Nikki Six Shock? Was there anything left this guy could do to shock us? (to be truthful, several infamous incidents were still on the horizon). As most record store employees of the era, we had transitioned from intrigued to openly making fun of Crüe. (Pout…pout..pout at the Devil!)  But that didn't mean we didn't listen to them more than most of  their fans and knew more about them than their roadies, we were into it.  And reading the tale, some of us remembered that four or so years ago, we had the idea that Nikki Sixx wasn't Nikki Sixx. Kerrang wasn't exactly the Washington Post when it came to vetting articles and research, but they were not amateurs either. They'd seen plenty,  and hanging out full time with borderline psychotic early 80's metal bands had given them pretty decent bullshit detectors. For this to get through their screening process meant there was definitely something more than a rumor cooking here. In essence, here's the story:
Matthew Trippe had moved to Hollywood like many early 80's metal aspirants. Also like many metal aspirants, he was dead broke and desperate for a break. He'd encountered Motley Crüe guitarist Mick Mars at the Troubador on Sunset before, but this time Mick had a question: "Can you play bass?"  Anyone in the rock scene then would say yes to any question that could lead to an audition, and Trippe readily agreed. The story continues with Trippe meeting Doc McGhee, Motley Crüe's manager in their office, whipping out a few Crue tunes on bass, then being offered a contract as the new bassist:  the replacement Nikki Sixx. (This calls into question the origins of the wording of their original contract-were the members of Crue 'characters' playing a role who could be replaced by other actors? The confession by a "replacement Andrew WK" in public interviews saying his contract was exactly that would seem to back this up as a possibility) He was told to sign as Nikki, not as Matthew, which he thought odd. The whereabouts of Nikki Sixx was only referred to as 'involved in a car accident and we are moving on'. This end of the story is plausible as Nikki was quickly becoming a liability with unpredictable and self destructive behavior, and had recently racked up his car and was hospitalized with a ruined shoulder.
Trippe wasn't shy about sharing his accomplishments. As a practicing amateur Satanist (actually joining  the Temple of Set headed by Michael Aquino- he joined after his arrest and then  getting kicked out of the band), he advised them to invert their pentagram on the cover, call the album Shout at the Devil, wrote the songs Knock Em Dead, Kid and Danger. He wrote Save our Souls that ended up on Theater of Pain. He toured with them, made the Shout at the Devil video with them and then at the end of the tour, was told that he was out and real Nikki was back in. Perhaps it had something to do with Trippe's sudden legal difficulties and imminent incarceration that forced Crüe to realize they'd traded one shitshow for another, and that with real Nikki healed, why not let him back in?
The Lawsuit
In 1988, Trippe initiated a lawsuit against Doc McGhee (note not against Motley Crüe) claiming civil theft. He noted that he had not been paid royalties for songs he'd claimed to have written: Wild Side, Knock Em Dead, Kid, Danger, You're All I Need, Dancing on Glass, and the huge hit Girls Girls Girls. Whether he was crazy or not, once in the courts, people started to look closer. (the case ended up being dismissed on a statute of limitations technicality.) Things weren't going well for Doc in 1988, as he was convicted in April of smuggling 40,000 pounds of marijuana into the States (that's twenty TONS kids). Two thousand pounds varies from state to state, but 10 years to life is a good summary of what he was looking at. Forty thousand pounds? 30-50 years would be most prosecutors opening salvo. How he walked with a $15,000 fine and a five year suspended sentence testifies to the pliability of the legal system,(although he has managed Kiss since 1995, so you can't say karma won't bite you in the ass eventually). 
Trippe hired lawyers and a private investigator (who were skeptical of his claim, but a paycheck is a paycheck) who unearthed some things that did support his claim. From a website comments section comes some very interesting potential insights. Someone claiming to be his private investigator:
I am Jerry Rollins Oglesby, they call me J.R., I'm the Private Investigator that broke the case of the cloning of Nikki Sixx. He is emphatically the clone that replaced blue eyed Frank Ferrano AKA Nikki Sixx. GREEN EYED, Matthew John Trippe Is telling the truth. This case cost me my marriage, $12,000.00, 2200 hours of my time and in the end I saw some supernatural occurrences with Matthew Trippe that would cause your skin to crawl. He became a very close friend because Matthew Trippe is an autistic genius in a child like mind. I met him before the Theater of Pain album, which was released by the record company. I filed a copyright in the Library of Congress on his music that he wrote before the releasing of the album. I received two copyrights to the album from the Library of Congress. If you should be so brave assholes, investigate and see if any of you want to go up against me, as the signatory of those copyrights. It was worth it to go through my time with Matthew John Trippe. When I heard Matthew John Trippe, with my own ears talking to Doc McGee and Doug Thalar in a conference call in my office and heard their offer to a fraud, poser, imposter and faker.
Matthew did not drop the case it was dismissed on a technicality in the statute of limitations in contract tort law. In Florida, the statute of limitations is 4 years on a contract tort. We sued in Florida. In California, it is two years. They, the record label's attorney joined forces with Thalar and McGee Entertainment and contrived a viable statement that is a matter of record in Tampa Florida Circuit Court. I quote: "We are not saying that a contract was struck with Matthew Trippe but if it was signed, it would be signed in California, therefore the statute of limitations would have expired." The case was dismissed. It is a matter of record ladies and gentleman. I spent 3 years proving that Matthew John Trippe is the one that cloned Frank Farrano alias Nikki Sixx for an injury that incapacitated him where he was not able to sign with the record company and Mick Mars discovered Matthew Trippe in California and he is the one that took Matthew John Trippe to Doug Thalar and boom, it happened, Matthew Trippe is the one that did all the tours, wrote the majority of the music and if you should read his interviews, you will see as I did on many occasions, doubt my intelligence as one of the greatest investigators that existed in our lifetime in those rock magazines, I read every title of each rag mag. and then it happened, I got this wild ass idea and started looking at body parts on both men and compared pictures of each man. Naturally, you would never guess in a million years that we have different everything and if we are blessed with two of anything, one is always smaller than the other, i.e. breast, one is smaller than the other, belly buttons, no two alike, toes no two alike etc. etc. You will see that Farrano has blue eyes with green contacts. Matthew Trippe has GREEN eyes and the NICKKI SIXX that gave those interviews has GREEN EYES.
I had over six hours of proof that was subpoenaed by the opposition, thinking it would be a walk in the park with my deposition. Well it wasn't and right after that deposition is when they decided to come clean without saying they committed any tort against an imposter.
If I had not heard those two assholes on the phone, McGee and Thaler wanting Matthew Trippe, the weirdo, DRUNK, Pervert and anything else you Neanderthal fuck bugs can call him.
They wanted him to join forces with them again to replace another with him.
I have stayed silent for many years but after reading this tripe, the record must be set straight that Matthew John Trippe is the Nikki Sixx that helped bring the success that Motely Crue enjoyed at his expense in the eighties.
Nikki my love, there is a song dedicated to you and it is about Matthew and you when you and him were on the dock in Fort Myers. He loved you very much and only you, him and me know what happened that day.
Steve Purcell is a very honorable man and on that day in question, YES, he used a tape recorder. He wrote an exhaustive spread on Matthew John Trippe. Our interview lasted for over an hour. If you have this tape anonymous, I would advise you to stay anonymous because I was there. I was there in the interview and refused to disclose who I am and was at that time married with a family. The very reason was that Doug Thaler and Doc McGee were heavily involved with Manuel Noriegia of Panama and the TEXAS MAFIA. It's a matter of public record, look it up or read about it in a request for the disclosure of information from the FBI, under the public information act. Hell Goggle it, every damn thing is goggled today.
SIXX Pack, I was part of that management but you SIXX Pack made a critical error with alot of talent that could have went far but again, I saw that Matthew was tired and you asshole, you are a damn liar, I saw and watch you and the others write music and did riffs with Trippe but Matthew John Trippe wrote the lyrics that started this glam band that went no where, after they pushed Trippe out. I withdrew my support from managing and financing, after I had a heart to heart talk with Matthew. He decided not to do this anymore and did not want anything to do with performing ever again because he feared failure and ridicule.
Matthew was fearless at times but deep inside he feared failure. He is a strange bird in his own rite and I believe very strongly that this should be the final note on this mystery of judging a man you don't know and never will because he is silent as I should be but I'm 63 years old and my last hooray is to write about my escapades as a person that has seen the world for what it is to us as the societal drones that are quick to judge but slow to forgive. I wrote a seven book series and Trippe is in there, at a glimpse you see what I have seen for over 40 years and in this Century, we will see the first and second coming of JESUS Christ.
Listen up public, "What You Hear Believe Nothing and What You See Believe Only Half of What You Saw. What is isn't and what isn't is, until it isn't or is." Ladies and Gentleman, I quote my words on this today I live by this quote and I DECLARE THAT THIS CASE IS CLOSED!.
Although somewhat rambling, there's some pretty strong stuff in there, if he actually is the guy. The Noriega bit sounds crazy, but is true. (read here)  Add in McGhee not explicitly denying a contract was signed with Trippe  to help  get the case thrown out of court on a technicality? Well that just adds another layer of confusion to the mix.  Other commenters are from the scene in Florida, and opinions vary, but some choice tidbits do show up:
"I won't leave my identity for personal / safety reasons which may make people doubt my comments. I worked for Doc McGee during the Motley Crüe debacle and can state definitively that Matt Trippe was employed by the agency during this time. I do not know if he wrote the songs he claims he'd I'd but I know he attended writing and recording sessions I also know he was 'let go' due to an arrest and that his calls etc were refused by the agency from that point onwards.
Maybe not that interesting but absolutely true I assure you."
and then this one:
"I was going through my desk that I had put in my garage over 20 years ago and came across a few notes that I had pertaining to this story. And the reason I had the notes is because the story is ABSOLUTELY TRUE. I lived 3 houses down from MJT and we were friends until one night i came home and caught him breaking into my house. Anyway, about 3 months before that,after work one night I went to MJTs house and brought some beer, When I arrived at his house there was a Blue Mercedes in the driveway that I had never seen before. I walked into the house like many times before after work and Doc McGee was right there in the living room with some Husky Quiedo looking Italian guy, the guy said to me If i wanted to live then "you better go back to wherever you came from and pretend you were never here" I did leave and waited in the bushes next door and drank a few beers waiting until they left. When I went back to open the door it was locked and MJT would not answer for at least 15 minutes after I was banging. I asked him what in the hell was going on and he was crying and stuttering like I had never seen before. I went back to get the beer that I left in the bushes and when I came back the door was locked again and he just yelled through he door that he would call me tomorrow. Well that was the last I had seen him until I came home one night to find him in my house, he literally just vanished for 3 months until I found him in my house. He took off and that was the last I had seen of him. To this day I am freaked out about what happened, i don't know the details however I know for a FACT it was Doc McGee who was in his house."
I'd have to point out all three of those comments all spell 'McGhee' as McGee, so my faith in those comments aren't rock solid, but they come from the 2012-2013 era when folks had little to gain by supporting this story. Others weighed in:
"If you go around saying you filled in for a member of a well known band even back in the 80's without any proof, nobody would listen. There was a fake Peter Criss and a fake guitarist of Great white that made the news and that lasted for 5 minutes before put in the trash. Trippe's story has lasted thru the years."
"I remember this years ago reading Kerrang. As much as i don't want to believe it I do however think it's true in part. not so much writing the songs but playing live and photo sessions for definite. look at the pictures..they are the truth. It'll come out years later..make for another film no doubt.  The Strange case of motley Crue"
"Matt probably filled in for a show or part of a show. He probably didn't even play and just told to fake he was playing, since Motley sometimes uses recorded guitars, bass, and vocals even to this day. I'm sure one of the band guys will mention something truthfully about it in a few years, maybe not in the mainstream media, but if you talk to them one on one you'll get the truth."
Some have said "Why was none of this in the Motley Crüe book, the Dirt?" Although it does seem self evident, someone added this:
Motley's manager was friends with the mafia. Do you really think members of Motley Crüe are gonna come out and say that Matt briefly replaced Nikki? The mafia motto is 'one slip of the tongue and you're in deep shit'
From an interview with associate and Florida bandmate in his post 'Crüe' days, Roger Hemond:
He could at times be very convincing and to this day, I don't know whether or not anything he said was true. I have seen copyright forms processed by the Library of Congress that had every member of Mötley Crüe's full real name, aka name, and social security number, with the exception of Nikki Sixx. All it said was Nikki Sixx and gave a social security number, which I swear to God was the same number on Matthew John Trippe's social security card which I was holding in my other hand. I'll tell you one thing, if I were going to try to pull what Matt alleges Thayer/McGhee did, I would probably pick someone a lot like Matt to do it with, because nobody would believe him completely – he was a lunatic! A variety of photos seemed to show differences in facial features through those years for Nikki Sixx. That could be attributed to any number of things though I guess. Matt was at the time that I knew him, a member of the Temple of Set, which is a pretty exclusive organisation. I find it a little strange that they would allow some weird-guy-nobody with no money to be a member, but I guess it could happen. 
He continued:
He had all of the tatts through the Theatre of Pain years. They were not cheaply done and there were several. He had a wife, a brand new baby boy, and no money – so I have no idea how he would have paid for them.
Conclusions?
Well on the surface, you'd have to dismiss this guy out of hand as batshit crazy. But he never backed down from this  story up to and including his death in September 2013. And there are some very strange things that do make me wonder. Some pointed out that in band photos, sometimes Nikki had a protruding navel in one photo and an innie in another, a difficult feat. He also varies in height in photos of that era, noticeably.  He had the tattoos identical to Sixx. One group that is hard to dismiss is the people that lived around him in the aftermath of his post Crüe supposed tenure. The comments above are all posted anonymously, but the weight of so much circumstantial evidence…?
Me? There definitely is enough to back up his story on some level. He clearly had inside knowledge of the band that would  be difficult to pick up from the outside. He had very expensive tattoos mimicking Nikki, and few visible financial resources to get them done. The high profile Michael Aquino of the Temple of Set backs up most of Trippe's tale. (A lengthy and very strange and detailed article by him can be read here. Scroll down until Aquino's post The Cloning of Nikki Sixx) He had many weird little tidbits. He had Crüe stories that no one outside the band would know. He had a speeding ticket with his name on it driving a car registered to Mick Mars.
I think it is very likely that a portion of his tale is true.  That he was put into a short ride with Crüe as a replacement part until things figured themselves out. Did an interview and photo shoot here and there, some video scenes, did some recording and rehearsals with the band. Perhaps a gig or two are not out of the realm of possibility. (some mention that newspaper reviews of certain live shows of the era mention audience members close to the stage claiming there was a Motley impostor onstage in the mid 80's.) The differing looks for Nikki in that era are hard to reconcile, as is the fact that myself and several colleagues and acquaintances had noted a big difference in Sixx's appearance four years before this story broke. The extent of the truth, well Matthew Trippe took it to the grave. But in the end, it does appear that the simple statement "I was in Motley Crüe" is very likely true. Weird.