Oscar: I tell you one thing that really drives me nuts, is people who think that Jethro Tull is just a person in a band.
psychologist: Who is Jethro Tull?
Owen Wilson, Armageddon ,  1998
Recently a friend said to me "Tull is coming in November, should we go?"  I quickly said "hell no!" and he was surprised by my quick response. Why? Well many out there might not have noticed, but Jethro Tull quietly expired at the end of the 2011 tour. "But wait!" you say, "they just played Chicago!"   Well yes, and no.
During the  2011 Tull tour, Ian Anderson dropped the bomb that  he was done performing Jethro Tull concerts, was going solo, and that Martin Barre (essentially a founding member and guitarist since 1968) and Doane Perry (drummer since 1984) were no longer needed, suddenly and without warning pulling the rug out from under them. Goodbye. No more Tull. And then…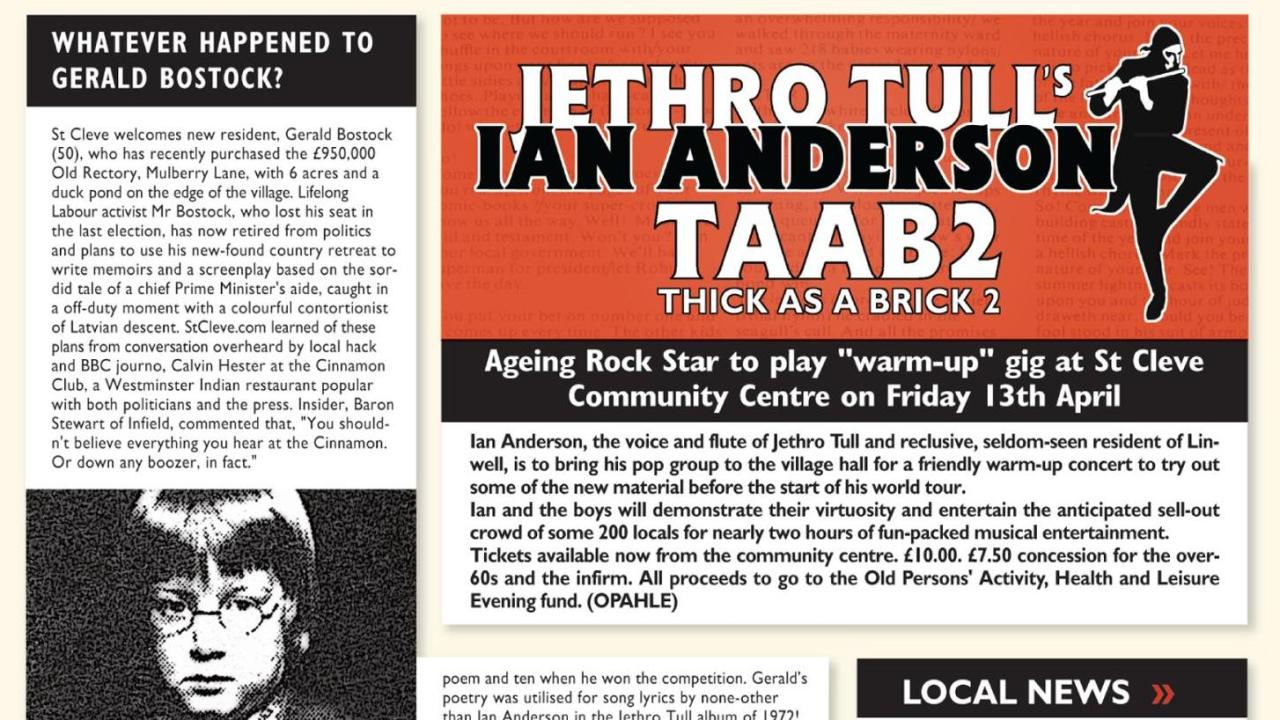 Thick as a Brick 2 by Ian Anderson was released very shortly after in 2012, which confused the hell out of Barre, Perry and any Tull fans still hanging in there. (Check out the tiny apostrophe after Jethro Tull) This move made the notoriously difficult Anderson to look even more of a calculating asshole. Barre said in an interview at the time:
"When Ian announced on the American tour last year that he didn't want to do any more Jethro Tull shows, Doane and I had no idea that he was planning to do "Thick As A Brick 2." This was all stuff he had planned before he had told us anything. He told us nothing, yet, obviously, he had thought this through for a long time. It is what it is. Everybody has to draw their own conclusions."
Tull had been on life support for a while (Broadsword and the Beast in 1982 many consider to be the band's swan song), and Anderson's creaking vocals became more and more strained as the millennium clicked over. I had seen them with Emerson Lake and Palmer in 1996, and it was apparent that Ian's voice had deteriorated quite noticeably-never really recovering from  throat surgery. (In deference to Tull being my first ever concert circa War Child, instead of putting up a link, I will let the reader go online to any Youtube videos of Tull in the last decade). The last twenty years since that 1996 moment have seen a further frightening decline in his vocal range. But back to the Tull confusion.
The Jethro Tull website run by Ian Anderson is a source of some very strange  information for someone through with the band. Since Tull broke up, and Ian said he was done performing Tull, we have seen:
Ian Anderson- Thick as a Brick tour 2013
Ian Anderson Band Best of Jethro Tull tour 2013
Ian Anderson Thick as a Brick tour 2013 continued
Ian Anderson Band Best of Jethro Tull tour 2013 summer German tour
Ian Anderson Thick as a Brick tour 2013 continued Russia and Scandinavian tour, US tour, Canada tour
Jethro Tull's Ian Anderson tour spring 2014
Ian Anderson Band Best of Jethro Tull tour summer 2014
Ian Anderson Best of Jethro Tull tour winter 2014-2015
Ian Anderson performs Orchestral Jethro Tull spring 2015
Ian Anderson Best of Jethro Tull tour summer 2015
Jethro Tull the Rock Opera fall 2015 – winter 2016
Jethro Tull performed by Ian Anderson spring 2016
Ian Anderson Band Best of Jethro Tull tour summer 2016 Europe
Jethro Tull performed by Ian Anderson Norway summer 2016
Ian Anderson Band Best of Jethro Tull tour fall 2016
Jethro Tull performed by Ian Anderson October 2016 – June 2017
Ian Anderson Band Best of Jethro Tull tour Europe summer 2017
Jethro Tull performed by Ian Anderson summer 2017 US
Confused? I am. Apparently Ian is, as the multiple incarnations trading on the Jethro Tull name belie him being 'done' with Tull in 2011. Actually, seems like quite a bit of Tull going on there. So what gives? Even Anderson's website still contains the Jethro Tull lineup with Martin Barre and Doane Perry listed as current members of Tull, along with his separate solo band lineup, disingenuously muddying the waters for anyone checking in to see what's what. Can't help but notice the slow morphing from 'Ian Anderson Band' to a more frequent 'Jethro Tull' label. With Barre gone…well this is pretty close to intentional deception.  http://jethrotull.com/musicians/
Some think that Martin Barre left the band willingly. Many think he is still in the band. Barre said:
"I always hate to hear, 'Oh, you've left Jethro Tull.' I haven't – Ian wanted to finish Jethro Tull, wanted to stop the band completely. It was a big personal shock to finish. Essentially the floor was pulled from underneath me, and I had a month to start from the beginning again."
"Now there is not a Jethro Tull. Maybe there will be in five or 10 years, but probably not. It's sad, because I see bands like Fleetwood Mac, the Eagles and Toto out there having very successful tours. They're very special bands, and they're enjoying a resurgence of interest from that era. But unfortunately we're not part of that."
This is where I have a problem, and the reason I so quickly refused to go see the band (along side with Ian's worrying lack of vocal power). Anderson seems to be trading on the band name, and doing his damnedest to keep anyone today from knowing that Tull ceased to exist six years ago, and obfuscating the fact that the guitar sound of Martin Barre, a person integral to the whole ethos of the band, is no longer there. The guy that crafted the riffs that launched the career of one of the most popular bands in the history of rock ain't in the band anymore, and it wasn't his choice. The casual fan or lapsed Tull fanatic is likely unaware of this sleight of hand. The upcoming 50th anniversary of the band will soon be promoted, but a close read indicates that the there will be no reunion and the band will consist of all hired guns, plus Ian. Barre confirmed this in March 2017:
"I think that the one time it would have done would have been next year, which is the 50th anniversary of Jethro Tull, and I've heard absolutely nothing from anybody in five years. I think it's on the shelf, but it'll probably stay there."
As Barre says above, there currently now is no Jethro Tull. Caveat Emptor my friends.