No band in the history of rock has been able to assimilate their high school years and portray it as vividly as Monster Magnet. They lived like many a stoner kid in 70's America: smoking bowls, taking shitty acid, staying out all night, wearing army coats, going to tons of concerts and listening to the classics over and over. Black Sabbath, Led Zeppelin, Kiss, Aerosmith, Judas Priest were the more familiar signposts, but these Red Bank area New Jersey kids had their finger on the pulse. Less familiar bands like Captain Beyond, Sir Lord Baltimore, Dust, UFO and Hawkwind were also strong apostles for the devoted. With CBGB's and New York City a short ride away, the mysteries of proto punk residue (MC5 and the Stooges) and the more alienatingly tangible sounds of the Ramones, Suicide, Richard Hell and the punk wave of the mid 70's were there for the grabbing. Of course this often meant riding bicycles for miles to grab some weed, stealing beers whenever possible, blasts of nitrous, robitussin chugging, tripping to stay awake for longer road trips and occasionally waking up in dumpsters on the lower East Side. Staying elegantly wasted full time…was a full time job for Dave Wyndorf and this pack of sketchy high school and post high school kids.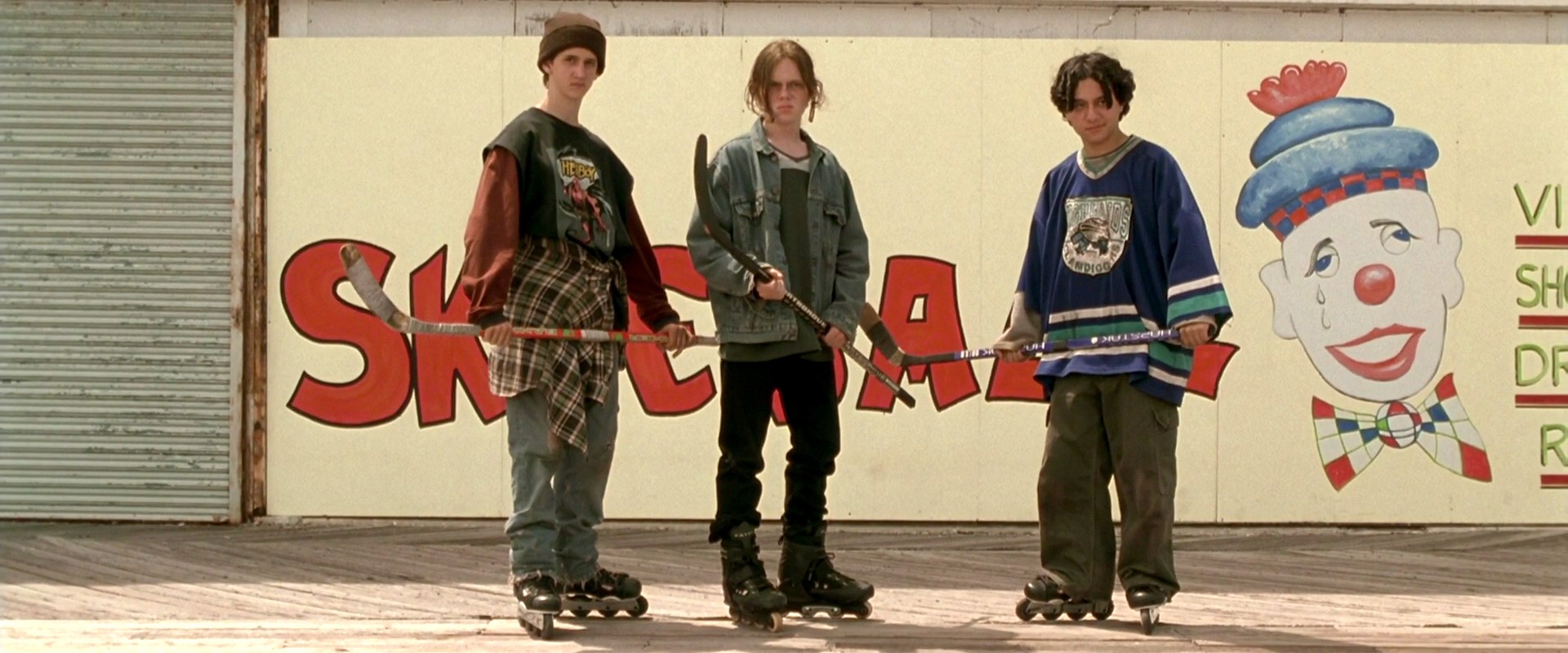 It was easy to want to emulate this drug fueled dissident behavior (think Linklater's 1993 Dazed and Confused film), but you could only take this so far. Heroin grabbed and planted many of those who couldn't get to the finish line successfully-many yearbooks of the era had memorial pages in the beginning with photos of those who had died tragically before graduation. (Mine had three) But there was an allure for many to aspire to be (or at least hang out with) the scuzziest drug ball in the neighborhood-they were badasses with the best record collections, knew they were cool, had access to the best drugs, scariest cars and were a beacon to those who wanted to rebel. (Another good comparison are the roller blade hockey kids from Kevin Smith's Dogma-a Red Bank resident who witnessed all this stuff)
Where could one go next? Grow old and outgrow your army coat? The answer was easy: start a band. Loading up on a bunch of Stooges and Sabbath, Shrapnel (earlier known as Hard Attack-a band known for putting weed in their flashpots so the final explosion filled the auditiorium with pot smoke that couldn't be traced) assaulted high school dances, dressed in army togs and even paraded out a cardboard tank toting Dave Wyndorf around. (future Monster Magnet guitarist Phil Caivano was a part of this outfit)
The public wasn't ready for a GI Joe inspired band of New Jersey lunatics rolling around in tanks, pointing guns everywhere and pounding out the theme to Underdog as their signature moments. They did make local TV though (see above)
So Scream as Loud as You Can, I'm Not Here, Man I'm Gone
Wyndorf laid low while plotting the perfect band: Monster Magnet. They were to be the synthesis and monument to all the wide variety of decadence that any kid who grew up in the seventies had witnessed: scoring drugs, taking boatloads of said drugs and the ancillary carnival-like madness that few who haven't been on the inside can imagine.  The band coalesced around Wyndorf, guitarist John McBain and drummer (future sound/light/manager) Tim Cronin. They submitted demos, got rejected, changed their band name, re-submitted similar songs, got rejected, changed their band name again. Finally Glitterhouse in Germany was willing to take a chance on them, named now after a 60's toy, releasing the self titled EP in 1990. It was a glorious paean to all the excesses of drug use:  Tractor ('Well my buddy Jo gave me a laughing pill..Well it tasted like shit and it gave me the chills..got a hole in my arm, when I'm driving the tractor on the drug farm'), and the debut of their perhaps all time classic, Nod Scene:
Bought another copy of Fragile
Seeds were bustin' up the spine
I think I cracked my skull doin' airplanes
Not too many buds, just fine
Pussy scratching sniffin a Playboy
Christ I'm a good looking man…
Fifteen miles to cop on our stingrays
Boys we're gonna ride tonight
Goofball's and 70's nipples
Gotta get our heads just right
Sit me on the lap of the god's babe
Cover me with skin and hair…
Bought another copy of ZoSo
Seeds were bustin' up the spine
I think I wet my pants doin' whippits
Not too many buds, just fine
Sit me on the lap of the god's babe
Cover me with skin and hair
Ride a number one on the home train
Screw you if you think I care………
This one song encompasses their whole Monster Magnet universe: weed, acid, nitrous, airplane glue, getting wasted, getting laid, giving the middle finger to cops, jacking off, riding bikes to score drugs, cranking Yes and Zeppelin…what more did a kid need? Propelled by a monstrous riff nicked from Time We Left This World Today by Hawkwind, everything that is essential to the band is in this song. (an odd aside-in interviews lately, Wyndorf claims he quit doing drugs around  age 22, or right as Shrapnel was starting to break in 1979. I'd hung with the band more than a few times at shows both backstage and on the tour bus in the 1993-1999 period, and find this statement a bit hard to believe, as well as hard to reconcile with the overwhelming drug themes that pervade their classic albums)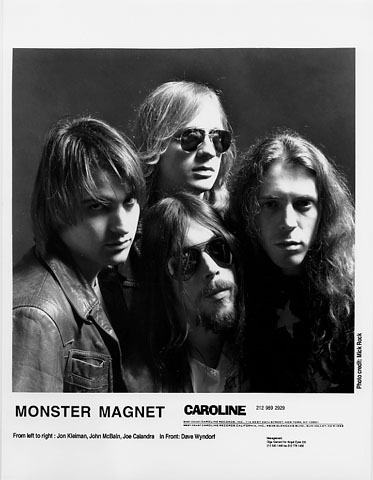 The universe slowly opened: the Tab EP featured the instant classic 30 minute title song with Wyndorf whispering and yelling deep back in the mix entreaties to galactic madness and specific illegal behaviors. (the band once said they played this song for 45 minutes as their whole show on their first Europe tour if they didn't like the club or audience) Highly recommended. And then…
1992 saw the release of  Spine of God, the all time masterpiece of stoner rock, before the genre even existed. All of the excesses of the previous two releases were refined into a nine song bible of drug fueled entertainment-a well thumbed guide to life based on the 70's life of a Jersey stoner kid that still holds up today as the pinnacle of the whole stoner genre. Sure they ended up lifting wholesale songs from bands you'd never heard of and reworked them as their own (Captain Beyond and Sir Lord Baltimore got hit up), but 26 years later, this is still one of the most important releases of the 1990's, in any genre.  This is the essential album if you are only going to have one.
The follow ups, Superjudge and Dopes to Infinity saw the departure of McBain and the entrance of the hypnotic Ed Mundell on guitar. The band coalesced quickly with Ed and the rhythm section of Jon Kleinman (drums) and Joe Calandra (bass) and plowed similar territory as their masterpiece, and yielded the minor hit Negasonic Teenage Warhead in 1995. (this was the era of the 'School Free Drug Zone' shirt) 
1998 was the year they crashed the big time, with the unlikely titled 'Space Lord Motherfucker' hitting #3 on the US charts, and their following expanded exponentially. Fame and fortune are fickle though, with the dissolution of the classic line up in the early 2000's, things headed south. Kleinman and Calandra departed after the disappointing God Says No. Shrapnel guitarist Phil Caivano had come on board as second guitarist, freeing Wyndorf up for more visual madness.
The mid 2000's were lean years: label changes, lineup changes, money drying up, until Wyndorf's overdose in 2006 brought the proceedings to a halt. The band focused their efforts in Europe, and US appearances were sparse.
Monster Magnet/Electric Citizen Live at the Sinclair Boston October 2018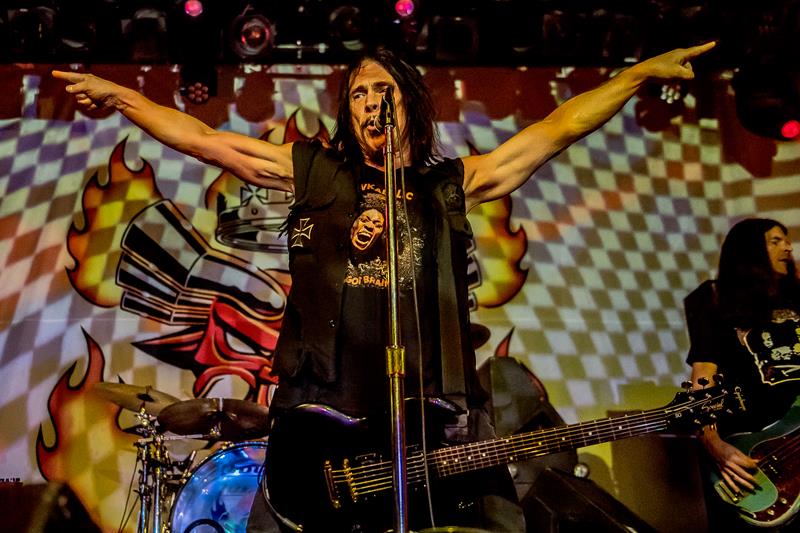 Which brings us up to the present day. The band has had mixed live reviews-one main complaint is their 80 minute set of the same 12 songs every night is a little paint by numbers. I had seen them in Williamsburg NY in March of this year and was underwhelmed. Dave looked like he couldn't wait to get offstage, and the set ticked in well under 90 minutes. Don't get me wrong, they were good, but it wasn't the madness of the 90's, it was a well rehearsed blast of psychedelic stoner metal-but far too short. And then they went off to tour Europe, and returned for a US tour. Boston was the last night of the tour, and things this night were quite different. The band consists of the rhythm section of Atomic Bitchwax (Ed Mundell's side project that he somehow managed to get himself kicked out of) Bob Pantella and Chris Kosnick on drums and bass, with Garret Sweeny on guitar rounding out the quintet with Dave and Phil. This time the set was devastatingly powerful-New York was like a blueprint while seven months later Boston was like a fully built and tricked out house. Guitars crackled, with Caivano bringing a sharper edge to the sound than Mundell's more psychedelic bent. A few times it was apparent that Sweeny was buried in the mix and significantly quieter than Caivano, but that is only a minor quibble. The setlist hit all the classics with the accent on their earliest material. Powerful, crisp and psychedelic-the band has shed some of it's Hawkwind influenced meanderings (despite dipping into Brainstorm for a bit), and maybe that's not for the better. The hits are behind them, and perhaps some old school explorations might perk up things. Still, this was light years better than their spring show.
Openers Electric Citizen sounded like they had sliced up every Black Sabbath riff into six second snippets and re-assembled them in a fashion that resembled originals. Their stuff was derivative but energetic with a female vocalist stalking the stage. After their third pass through a re-imagined Children of the Grave with some Run to the Hills lingering in the background I began to wonder: "Is rock and roll really dying?"
Dave recently had this to offer:
"…at one point, rock really meant a lot to a lot of people. It was a way to talk about things that people were uncomfortable talking about. There was a lot of poetry and a lot of weird cultural insight to it – but as our culture changed, people started wanting less and less from music. They started getting what they needed by other means. People just don't have the time anymore… they don't read poetry."
So the weed is gone, and there's only a blackened pipe left. Scrape and scrape and you will find one last hit, because nature's got a way you know?