Once again, for the third year in a row, the Carwreck party went on the road for a full schedule of summer shows. Most venues were outdoors, the best place to see a show during summer in any reality. Let's kick off the wrap up:
Primus and Mastodon, Blue Hills Pavilion Boston May 29
The summer kicked off early this year-May 29th actually-with the double headlining bill of Mastodon and Primus. I thought this an odd pairing, but it seemed like well over half the crowd was there for Mastodon. Mastodon is a band that has gone on a strange trajectory-from the heavier than hell Leviathan in 2004 this band has become downright peculiar. Prog tendencies in metal bands usually have mixed results. Coheed and Cambria sometimes can pull this off, and Mastodon has similar uneven results. The recent album Emperor of the Sand is a good example of this schizophrenic approach-they are capable of being dazzlingly brilliant and godawfully painful not only in the same set, but sometimes in the same song. Think REO Speedwagon trying to do Rush and you are close. Setlist here.
Primus hit the stage to Danny Elfman's iconic Clown Dream from Pee Wee's Playhouse fame, setting the vibrations to weird from the get go. Once the horn helmet hat came out, things phased from normal to delightfully surreal. The middle of the set featured their newest album, The Desaturating Seven, a quick 35 minute rundown based on an Italian children's book. With Tim Alexander back in the fold, this band is now more telepathic than rehearsed. Somehow they have become considered a 'jam band', despite exhibiting few of the necessary Dead-like noodling characteristics. Primus has always sounded like a spastic version of early 1990's King Crimson-precise when they need to be, and cacophonous spontaneously. Primus were consistently on point where Mastodon were a bit scattered. A solid evening. Setlist here.
Dead and Company, The Meadows Hartford June 13
The thought of John Mayer in the Dead has finally transitioned from horror to a tacit acceptance. Since the legendary Fenway Park 2016 show, Mayer has managed to quiet the critics with his palpable enthusiasm and toning down of his more annoying characteristics. (no more shoulder pads in his jacket, appropriately scruffy outfits). The ninth show of the tour saw them land in Hartford. For the first time, I had actually arrived in time for the parking lot scene. Illegal vending is always interesting, and the beer cooler guys were selling the holy grail of beer, Vermont's Heady Topper. Unfortunately, this was one of the highlights of the day. The setlist trended towards ordinary following a ferocious Hell in a Bucket opener,  but there were flashes in Viola Lee Blues and China->Rider. Two songs after drums and space and the show was over early. Still, an average Dead and Company show in 2018 is comparable to average Grateful Dead shows of the early 90's, and light years beyond their sputterings of 2015
Roger Daltrey with the Boston Pops does Tommy, Tanglewood Lenox MA June 15th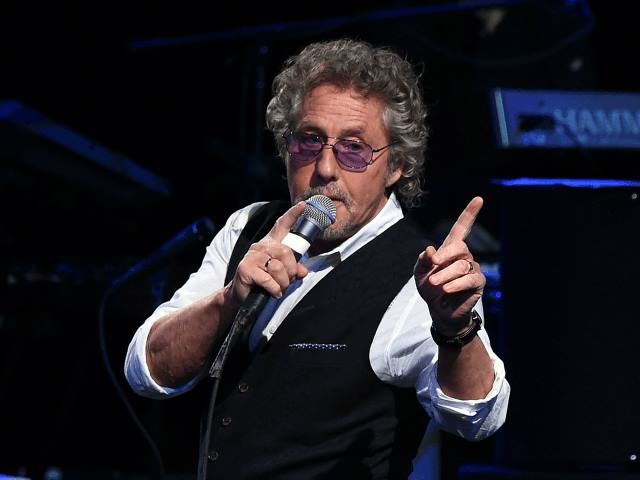 Two nights later, a jaunt across the whole state of Massachusetts to Tanglewood, the home of the Boston Pops/BSO on the New York border. Last year this was the site for Pete Townhend's orchestral version of Quadrophenia. But where Quadrophenia functioned as a fully formed classically arranged symphony, Daltrey brought a full solo band to back him up, resulting in more of a rock band playing Tommy with orchestral flourishes than a realized classical piece. Daltrey was in fine voice this evening on the lawn: a sea of blankets, wine bottles and dinners covered this jewel of Massachusetts al fresco venues. The familiar themes of Tommy are some of the Who's strongest material, and Daltrey kept the energy high, and it was a headlong rush to the end with Who Are You and Baba O'Reilly (including an insane violin solo so often neglected) to cap the evening.  Comparisons to Townshend's performance last year are inevitable-one managed to shoehorn Quadrophenia into a genuine classical piece while Daltrey mainly used the orchestra as window dressing embellishment. However, Daltrey did get the rock vibe going much better. Who won? 'Us' would be the best answer.
Yes Hampton Beach Club Casino NH July 11th
or
?
Wither Yes?
This one is an interesting conundrum. Yes is on their 50th anniversary tour. Twice actually. For those unaware, there are actually two versions of Yes currently touring-first Howe, White, Downes and replacement parts. The second version with founding vocalist and face of the band Jon Anderson along with iconic Rick Wakeman and 80's star guitarist Trevor Rabin. Club Casino has seen the version led by Howe take the stage in the past in this relatively small venue. This evening the lineup was again the former: Steve Howe, Alan White, Geoff Downes, Billy Sherwood, Jon Davison and replacement drummer Jay Schellen. Actually there was a surprise in store for us in the third set, founding keyboardist Tony Kaye showed up.
I'd popped tix for this on stubhub for $6.25 each. Cheaper than their 1970's shows. Weird.
A quick thirty seconds or so of traditional taped warm up Firebird Suite led to Close to the Edge as the opener. Downes has some difficulty reproducing Wakeman's more challenging lines from time to time, and it showed here. Howe's acoustic solo guitar piece Mood for a Day showed that he is still a master of the fretboard, and his electric guitar work on set one closer Heart of the Sunrise carried the whole band on his shoulders. Billy Sheridan on bass sometimes had a challenge in mimicking Chris Squire's dominant bass lines. Oddly he's never once strapped on a Rickenbacker 4001 bass, the signature sound of Yes. (Anderson's version relies heavily on the Rick for bass).  For the second set, Alan White came out for the closer. He is now borderline infirm after several back surgeries, and only plays on the last four songs of the set. On Awaken, he was solid in his snare and cymbal work, but some of the trickier tom fills have to be omitted. Kaye came out for the final three songs of the encore. He still has the annoying habit of only playing with his right hand while the left hand waves in the air. Good Hammond work does require some mashing with both hands to create the proper effect. Very odd that he resolutely refuses to do this. At the end of the night I compared notes with friends and the consensus was that Yes is no longer able to accurately reproduce their own material. While this sounds harsh, one has to remember that Yes wrote some of the most challenging rock music in history. Downes and Sheridan, relatively capable musicians both, often give the impression that they are slurring their way through things that are too difficult to play precisely. I had the good fortune to meet the whole band after the show, and got to speak to each member one on one as they sat at the long autograph table. I had to bite my tongue several times, I had plenty to say-White appeared frail, Kaye affable, Sheridan offhanded but pleased, Schellen quietly ecstatic, Howe prickly and distracted. But in front of Jon Davison, the singer they had grabbed from a Yes cover band, I had to comment:  "Do you ever wake up in the morning and think 'I am the luckiest motherfucker on the planet?' I mean seriously, you are not opening for your dream band, you are IN your dream band? Unreal" He nodded and said 'Oh yes I know, I do know'. Great ending to an uneven but overall fun evening. In the end, which version of Yes you prefer is up to the reader.  Setlist
Gov't Mule, Avett Brothers, Magpie Salute Mansfield MA July 14th
Gov't Mule brought their 'Dark Side of the Mule' set to Great Woods in Mansfield. Although one would think they were doing Dark Side of the Moon by Pink Floyd in its entirety, only seven of the fifteen Floyd covers were from Dark Side. Echoes part two, The Nile Song and Pigs on the Wing were some highlights. Warren Haynes, who never seems to have an off day, was masterful on guitar. A dazzling light show complemented the set which contained only two actual Mule songs. Before this tour, Mule had only done this Floyd adventure twice-Boston for Halloween in 2008 and at their own festival Mountain Jam in 2015.  Setlist here
Openers Magpie Salute featured the remnants of the Black Crowes, and rocked out old school. Harder and faster than the parent band, Rich Robinson, Sven Pipien and Marc Ford provide the core of something that has a rawness similar to 1987 Guns n Roses with elements of dangerous Rolling Stones and a strong heavy Crowes vibe. This is a band to watch.  Needless to say, their set was far too short. The middle band, the Avett Brothers had a large contingent in the crowd. I was a bit dumbfounded-they sounded like the Jonas Brothers on a good day mixed with any generic Christian Rock band minus the Jesus lyrics. I was bored to tears. Fortunately Warren had lined up a memory cleansing set of Floyd to send the posers to wing. He did.
Blackmore's Night  Academy of Music Northampton MA July 21st
Ok this one is hard to believe for those who are unaware. Ritchie Blackmore, the notoriously difficult iconic guitarist for Deep Purple decided one day to start a band with his then girlfriend Candice Night. The band name is cleverly a play on both the names of the founders and one of Purple's more iconic songs 'Black Night'. Though they've been around since the late 90's, many still don't know that Blackmore has created an acoustic band that bears zero resemblance to Rainbow or Deep Purple. I was warned ahead of time that fans show up in renaissance costume. I wasn't prepared for said fans gathering at the front of the hall and engaging in spirited group dances of Elizabethan times.
I'd have to say I was solidly impressed. I mean what the hell, Ritchie Blackmore, who is on a short list of rock guitarists who stand as the founders of heavy music as we know it comes to town? Townshend, Hendrix, Gilmour, Clapton, Page, Beck? Blackmore is right in there timeline-wise and talent-wise. This is a living legend. But as long as you don't expect any Purple, you are in for a treat. The band sounds very close (nearly identical) to the Annie Haslam led band Renaissance who ruled the floorboards in the seventies. Night has a similar vocal range as the operatic Haslam, and the band is fluid on their plethora of acoustic instruments. Oddly, barely recognizable versions of Rainbow, Deep Purple and Uriah Heep obscurities dotted the set. On other nights Renaissance and Mike Oldfield songs will make appearances. I thought this night might be a disaster, but I would go again in a heartbeat.
Ween Waterfront Park Burlington VT July 29th
Ween end of summer tour show. Lake Champlain for the background? Are you kidding? You could smell that this would be a special one from a long way off. From the opening notes of Did You See Me? things were loose and fun. Claude bloodied from playing drums with his hands, a half assed cover of Black Sabbath by Sabbath, China Cat by the Dead, three of the five Stallions….holy crap this was perhaps the best Ween show I'd seen since 1999. The location was perfect. We are gonna keep this one light on words and heavy on 'watch and see what the fuck they did'. See below for video evidence of the mayhem:
Many online agreed, this one was special. The band all switched instruments for a song. Multi Stallions-always the sign of a special show. No seats, just a field. One of the best days of the summer. Sun sets over the lake literally just behind us. For me, this was the best show of the summer by a longshot. Long live Boognish. Setlist here.
Slayer Albany Times Union Center Albany NY August 1st
Slayer…Slayer…Slayer….Slayer…..
You actually have to say their name three or four times in a row, or it doesn't count. Somewhat like Bloody Mary. So Slayer announced that they are on their farewell tour and packing it in. To go out in style, they packed the bill with legends of thrash and death metal.
I was on the way into the arena very early in the bill when I saw a kid leaving the event in a Venom shirt. Kind of early. Clearly he'd only come for Napalm Death who'd replaced Behemoth a few days before the show. Once inside, I realized it had been a while since I had been at a show where I could be in genuine danger. (Venom last year in Boston but in reality Butthole Surfers in 1990 would take the cake for uncontrolled mayhem). I'd missed some of the opening acts, coming in towards the end of Anthrax. Wandering around looking at various concert T shirts was highly entertaining-beer bellies stretching vintage shirts of 80's bands long forgotten: Exodus, Overkill, Carcass, Megadeth, Obituary, Kreator…I'd forgotten about some of these bands. This show was another one I'd popped on stubhub for dirt cheap, $7.00 for loge seats. Lamb of God had a large following there, yet I couldn't really find anything in their set to grab on to. First, bands that spend much of their time onstage with members having an arm in the air at all times? Play yer damn guitar. Plus the singer standing on the monitors often, posing, posturing and yelling WWF style? The aluminum bleachers backdrop also lended to what could easily be confused with a choreographed wrestling match theme. I was bored.
And then came Slayer. (Slayer…Slayer…Slayer…). Very quickly these guys established why they are the kings of thrash and death metal. Precision riffs created large incisions in the sweaty air of the former Pepsi Center, drums spitting artillery shells at machine gun rates, flames bursting front and back and sideways. It was mayhem on the stage, and the mosh pit circled menacingly, taking up a large fraction of the floor. Violence was tangible in every turn. But somehow these songs showed a spirit and swing that Lamb of God couldn't achieve. Hell Awaits, South of Heaven, Raining Blood, Chemical Warfare led to the finale of Angel of Death-all at impossibly loud volumes and impossibly fast tempos. Brutality and catchiness intersected in a tribute to all that is metal. Glorious. Hell awaits indeed.
Belly,  The Royale Boston MA August 23rd
Don't Get Too Close To My Fantasy-Still Coquettish After All These Years
I'd wanted to see Belly since their second album came out in 1995, never have. My time with them went back to the Throwing Muses era, when I'd seen that band a half a dozen times in Cambridge before they were signed and they only had a cassette out (to this day, still their best release by a long shot). Belly's second album, King, was a masterpiece of perfection, musically and in the timing. It was sublimely different from much of the 'chick rock' that flooded the market in the 90's. But Belly were different. The riot grrl movement, Liz Phair, L7, PJ Harvey, Hole, The Breeders, Kim Gordon? These girls were dangerous, could mess you up. Or even worse, ignore you completely. These were their themes-boys and love not needed here. Belly and Tanya Donelly were something very different. They sang about the things that concerned many hipster 90's twenty somethings the most. Dating as a full time activity,  and love….found and lost. Wistful and romantic in a good way, there is heartache and longing described in vivid terms–in poignant but easily understood terms-the spectrum is covered from highs to lows in impressionist wordplay.  Emotionally closer to Emily Dickinson than Bikini Kill, Belly is able to cut to the heart of relationship gamesmanship. Twenty years later, this album still stands as a masterpiece. Yet somehow the band only existed for three years and two albums-packing it in by 1996. Here is them doing their signature song, Red, back in '95:
At the Royale, the band looked like they hadn't lost a step since 1996. Tanya, who has to be pushing 55, still looks every bit the indie rock goddess-Dorian Gray'ed by the Gods and Goddesses of rock n roll. But make no mistake, she has an ability to use her voice in ways few singers could. Whispers to shrieks to country trills to breathy entreaties to guarded dive bombs from soprano to zero-Donelly has a unique and powerful vocal presence that Kristin Hersh never let her show in the Muses. The band still prowls the stage like there is a threat in their missives. Who could forget this pose:
The band had their kids there. Their progeny hosted an onstage drawing for a raffle and hogged the stage in a fashion that would make the cynical cringe, but was slightly endearing and a dose of perhaps needed reality:  'Hey we got kids and are not 22 anymore folks'. But the air of family that the Muses once nascently carried back in a long burned down club in Cambridge was now fully formed, a maturity has descended upon an era once innocent and adolescently hopeful on the love front. In some ways, their weighty and heady successes are frozen in time, along with any fans memories. It was a special time. 'Don't get too close to my fantasy' a wise philosopher once said. Fair dinkum. Setlist here.
ZZ Top, Indian Ranch Webster MA August 26th
My first concert year (underage), I had seen Rick Derringer in Salisbury Frolics. I was way too close to a PA that would easily deafen Madison Square Garden in a room the size of a small lecture hall. They tuned the monstrous PA up with some radio tunes. 'Heard it on the X' was the first song. I was intrigued. ZZ Top they said. I waited decades without seeing them, grabbing a few of their early albums. Why? I knew they had had a Texas history that went back to the days of the 13th Floor Elevators. But somehow they never had they crossed my path, and too many lunkheads were into them. I filed them away.
I'd had tickets two years ago to see ZZ Top when the bass player Dusty Hill wiped out drunk on the tour bus and broke his hip, pooching the tour. I had then given up all hope in ever seeing them live. Scanning the concert calendar, I discovered a day ahead of time ZZ Top playing within 50 miles of home. I had no idea that the Indian Ranch is located on a rather famous lake, one made famous in the Guinness Book of Records as longest name for a lake ever: Lake Chargoggagoggmanchauggagoggchaubunagungamaugg. Or: 'you fish on your side of the lake I'll fish on my side of the lake and nobody fishes in the middle'. I'd memorized this in elementary school but never knew the damn lake was in Massachusetts. (a plaza with a convenience store has the name over it. It covers all of the stores from end to end.)
Top came out and delivered a perfunctory set-no surprises-some obvious omissions-that lasted perhaps 75 minutes to the predominantly biker crowd. Little time for jamming and mostly getting things done quickly  was the order of the day. Some songs just fell apart at the end as if they were unwilling to let the song go another bar. Cheap Trick also operates this way lately, pre-programmed set that will not be deviated from under any circumstances, and an 80 minute target endtime. Bands on auto pilot that play the same set every night aren't the best thing to see, but I was happy to finally witness these guys decades after I'd written them off with Eliminator. Setlist here Some footage:
Killing Joke and Pig, Paradise Theater Boston September 11th
The summer ended on the ominous day of September 11th. I'd seen Killing Joke 5 years ago at this exact venue. Unlike many long lived bands, Killing Joke is currently constituted by their original 1978 lineup: Jaz Coleman, Youth, Geordie Walker and Paul Ferguson. This alone should reap them accolades-seriously a punk band that still has the same lineup for this long? Unheard of. And this was their 40th reunion.
Most Americans have no idea who Killing Joke are. They made zero impression in America during their heyday. With a sound that could be categorized as 'standard 1980 brit punk' with a heady Hawkwind edge-well you can see why nobody in the States would get it. But Youth? Few know he is the god of bass in KJ, but even fewer know he is a producer of rather impressive stature. Paul McCartney? The Verve? Alien Sex Fiend?  U2 and Depeche Mode? Yep, Youth.
Jaz Coleman is even more enigmatic. Often missing off planet, or perhaps in the Sahara, Coleman can be hard to pin down. He is famous for being an idealist, conspiracy theorist, truth teller and yet another famous producer. He rose to fame in 1995 with Symphonic Pink Floyd, a classical re-arrangement of Floyd classics.
With that in mind, seeing them in Boston was once again an amazing experience. They are so on top of their game that they could, like ZZ Top and Cheap Trick, phone one in. But they are made of sterner stuff. They briefly noted that it was September 11th and left the rest hanging, and quick comments on Trump were followed by 'you guys watch out for us, so we are in it together'. For better or worse was politely left out. The set contained four songs from their debut lp from 1980. Setlist here
Pig, the opening band were entirely confusing. Seven musicians were coming out of the PA but only a guitarist, drummer, and engaging vocalist were onstage.
Raymond Watts, an integral member of KMFDM, is the central figure of <PIG>. One can be forgiven for thinking this is an offshoot of Pigface (the industrial rock scene is the most incestuous of any rock scene ever-everyone has been in each others band at some point). As a front man, he is hypnotic. Dazzling stage gestures can be hypnotic to engage a crowd at first. After a while though? Repetition grows stale when computers are actually playing most of the instruments and your band members aren't. Notsogood. Would go down a storm in a NYC bondage bar though.
So, that brings us to the end of the summer run. Distance traveled to shows: 1,890 miles traveled. 11 shows: $373.00 total ticket cost.
Cats Down Under the Stars for sure.