"My magnificent octopus" – S. Baldrick
As the Zombies almost once said, summers are the time of the season for concerts. From sheds to stadiums, folks pile into their vehicles to head out road trippin' and space truckin' for some full on outdoor Dionysian rituals. Some choose to make the parking lot their tailgating blow out (occasionally failing to even enter the show), others wait patiently in line to get into the venue early to drop $40 bucks on a shirt and absorb multiple beers at $11 a whack. But the gamut of summer concert behavior makes up one of the best seasons to see rock n roll in person– outside and under the stars. This summer was no exception. Below is a chronicle of the Carwreck adventures on the road from June to August this year.
   June 9-Joe Walsh and Bad Company
Joe Walsh and Bad Company, opening night for the summer season. I'd almost given this one a miss, even though I had tix in hand already. It was a weeknight, I was beyond tired. At the last second though I jumped in the car and flew to Great Woods (sorry, corporate logos change so quickly at these joints that we need to stick with the real names: The Meadows in Hartford, Worcester Centrum, Providence Civic Center, Boston Garden, Great Woods etc, who can keep track of which joint is the Xfinity Center anymore? And by next year it'll be something different, you can TD bank on that). Aptly named the One Hell of a Night tour, this was one of the best shows of the summer. Going in, my expectations were low, but was I in for an eye opener. Joe Walsh is a pretty funny guy. If you've never heard him talk, you'd swear he was blasted out of his mind (which he was from the sixties until 1994)  Here is a pretty good example of him, courtesy of David Letterman in the late 1980's:
Joe was in fine form at this show, introducing Life's Been Good with the slurred quote "If I'da known I'd be playin' this song for the rest of my life, I'da written a better song. But this is what we got, we're stuck with it,  so let's make the best of it…". Long term band mate Joe Vitale gave the outfit a 70's era Barnstorm feel. Walsh's unit opened the show but easily could have headlined-Walsh's distinct guitar lines warping reality like the James Gang used to.
Next up was Bad Company. Often thought of as the poor man's Led Zeppelin, they were crisp on a pared down stage, serious and powerful. With Paul Rodgers and Simon Kirke from the original band (bassist Boz Burrell passed away in 2006 and guitarist Mick Ralphs declined to do this US tour due to health reasons) they were fleshed out by long term second guitar Howard Leese of Heart fame and a temporary stint from Chris Robinson from the Black Crowes. Lean and mean, Paul Rodgers stalked the stage as the band delivered some of their tightest playing of their career. Notes I took at the show included the question "How the fuck can Paul Rodgers still be this good?" How the fuck indeed-Rodgers had started to really tear up venues with Free in 1969, and 47 years later hadn't lost a step. I'd seen Robert Plant a few times over the last few years, and Roger Daltrey a dozen or so times in the last decade. Both are still vocal legends, but neither could hold a candle to what Paul Rodgers can still pull off in 2016. Hard to believe, but Paul Rodgers is the last man standing, the most powerful 70's era vocalist in rock n roll today. Had there been a roof, Bad Co.would have blown it off.
July 15 Fenway Park-Dead and Company
Next up was Dead and Company. I had seen them in 2015 early in their tour and was decidedly underwhelmed, as noted here.
I'd been wary of this band since the Grateful Dead's 50th anniversary last show ever 'we swear we are done' in Chicago was quickly followed by a fall tour announcement with Oteil replacing Phil Lesh, and John Mayer as 'Jerry'. I wasn't the only long term Deadhead to be a bit skeptical of a cash grab, as brilliantly portrayed here.
I was dragged nearly kicking and screaming to the show and protested heavily that I didn't really want to go. But an outdoor show at Fenway seemed like it could overcome John Mayer being the focus of attention in the Dead, but still had very low hopes of them being close to good. . But like Fonzie once famously said, I was wrrrrowrrr..
I thought Dead and Company were a pale imitation of the real thing, and that there was no way they could even come close to the Grateful Dead's power.(I was wrong). The band started out the night with a jam that took a while to lead into Jack Straw. Jams to start a show? This was new. Donna Godchaux, a polarizing vocalist from the Grateful Dead from 1972-1978 showed up for a rare appearance, and brought a decent mid 70's vibe to the setlist that drew heavily on her era of studio work. The first set finished with Help On the Way->Slipknot->Franklin's Tower, something usually held out as a second set centerpiece. I wondered if this was going to be a long single set show and we had strayed into the second half. Nope. Second set started with St. Stephen->Dark Star. This was a mind bending way to begin a set. Combine that with the follow up of TerrapinStation/Drums/Space/Terrapin/Morning Dew–this  would have sizzled synapses and popped craniums had it been played in the 80's or 90's, leaving many Deadheads quite different people than they are today. But make no mistake-this sounded VERY much like classic Grateful Dead of the late 80's early 90's. Mayer popped a couple of song choices over Bob Weir's strummed introductions to something different. Mayer overruled Weir? Twice? What was going on? With a Casey Jones that sped up each successive pass through the chorus, the Dead finished with a lighting fast version that sounded like they'd been injected with some of Heisenberg's finest blue.(read up on Phil Lesh allegedly inventing cocaine suppositories for the band in the 80's so they didn't have to stop to blow lines in between songs when you get a chance).  Weir in particular threw Mayer slightly worried glances as they sped up to a tempo never heard before in any era of the Dead canon. As they approached light speed, Weir and the drummers eyes bulged at the exertion and looked as if all three might pass away right in front of us while Mayer hopped up and down gleefully strumming full speed.
A rare double encore to finish what has been said to be the best show this unit has ever played? Sublime. Though never a Donna fan, her addition combined with some pretty inspired playing from Mayer made this so close to the Dead that I have fooled several knowledgeable people playing them the soundboard from this show. (highly recommended for purchase while you can). Oteil deserves a mention for finally figuring out how to get genuine dinosaur-like Phil Lesh bass  runs pounding underneath. Great show, and I'd go again in a heartbeat. These guys are becoming musically dangerous on stage, and though it pains me to say this,  John Mayer might consider dropping his career to do this full time.
July 17 Fenway Park-Paul McCartney
Found some cheap tickets to McCartney on StubHub and jumped in the car once again. I'd seen the giants of the 60's bands: Rolling Stones, the Who, Pink Floyd, the Grateful Dead, Jefferson Airplane, Cream, the Animals, Traffic…but never seen an actual Beatle.  Once again the rockers on their 50th or more anniversary tour fill up the stadiums. McCartney looked ageless (he's actually 75), and has overcome some vocal problems that have plagued his recent tours to deliver a 38 song set that covered his whole career. The show started with a surprise for Sir Paul. Everyone had a card under their seat with instructions. Which resulted in this:
From the opener Hard Day's Night the band was off and running. Pretty much every Beatles song you'd ever want to hear combined with some excellent Wings era material made for a show that seemed short even though it pushed nearly three hours. Tributes to George Martin and George Harrison and stories about meeting a Russian defense minister who told him that his first album was an illegal  Beatles album, and that the Beatles had nicked For the Benefit of Mr. Kite off a Victorian era circus poster nearly word for word made McCartney seem very reachable and real. Another highlight was Bob Weir-still in town from his two day stint with the Dead at Fenway the previous night- coming onstage to join McCartney for Hi Hi Hi (of course).
Then during Helter Skelter, with Weir still on guitar, the stage was charged by a drunken Rob Gronkowski of the Patriots. As he mugged for the audience, Weir gave him a look like he wished Gronk would spontaneously burst into flames and burn to a crisp onstage. It would be nice if someone could emulate the Seinfeld episode where he goes to a heckler's job to screw with them. A rocker should show up at a Pats game and start yelling signals at Gronk behind him to see if he'd get the point. Doubtful. Even hard core Pats fans were pretty dismayed at his embarrassing drunken roofie worthy stunt (He is likely immune to roofies though):
Other highlights were the fireworks laden Live and Let Die (the first of two I'd see this week) and a peek at the earliest work of McCartney and (mostly)Lennon-In Spite of All the Danger from the 1957 era pre-Beatles, the Quarrymen. A real cool night that ended with a blast.
July 21-Jane's Addiction, Dinosaur Jr, Living Colour
In a tent on the waterfront of Boston Harbor two days later, this triple threat of 90's heavyweights lit up the night. I'd been a fan of Living Colour since day one-my Vernon Reid fan-dom even tracing back to his stint in jazzer Ronald Shannon Jackson's highly demanding Decoding Society in 1984. Always hard to pin down, what exactly is their sound? Funk, jazz, metal and pop synthesize seamlessly into a literally unique sound. Hitting the stage early, the seats were only about 20% filled. But no matter, vocalist Corey Glover (sans Bodyglove wetsuit) played it like it was a full stadium. The band has become even tighter in the last twenty years-Vernon Reid crackling on guitar like a rampant electrical storm, Doug Wimbish moving air with devilishy complex bass runs, and the spectacular Will Calhoun pounding out poly-rhythms that made Dinosaur's drummer Murph comment backstage: "he's a monster!". Not bad praise coming from a drum legend himself. During their major hit, Cult of Personality, Corey ventured deep into the crowd-running down empty rows back and forth until he settled directly behind me to sing the final notes "per-sunnnn-al-it-teeee!" all about a foot from me. Holy living fuck! I'd been lucky enough to have backstage passes for this one, and quickly shuttled to the backstage area. Jane's Addiction were holed up with tattooed, pierced and needle scarred mini skirted hangers on, but both Living Colour and Dinosaur Jr were hanging in an outdoors area backstage entertaining the handful of hangers on. (this was a home game for Massachusetts based Dinosaur Jr). Living Colour stayed in the main open area backstage to chat with fans and take photos. I had a long conversation with Vernon Reid, reminding him that I'd seen him play at Newport Jazz Festival opening for Miles Davis and Dave Brubeck in 1984. Took a bit for him to remember until a mention of the minuscule statured pianist Michael Petrucciani jogged his memory. He stayed and chatted for about a half hour, very affable and generous with his time. This set was one of the highest energy sets of the summer, with Vernon Reid spitting molten notes out on top of the most ferocious rhythm section I've seen all year. Breathtaking shit, really. I said to Vernon that they should be headlining this bill. "you gonna have to talk to somebody else 'bout that I'm afraid…" was his wry observation.
Dinosaur Jr came out pumping with Lung from their 1987 second album, and didn't let off the gas pedal until the final notes of Just Like Heaven, a Cure cover also from their second album. Start Choppin' from 1993's  Where You Been got people up out of their seats and jumping around until the end of the set. I'd seen them several times over the years, and in 2016 the band is a well oiled machine. Murph's drumming syncs with Lou Barlow's bass to give a perfect platform for J Mascis's unique wall of sound country inflected punk rock assault. Dinosaur Jr can be volume monsters in a smaller venue, but open air can tend to absorb much of this power. (As an aside, I'd seen J play in a Stooges tribute band recently, and his raw Les Paul through a Marshall was the best sound and soloing I'd ever heard from him in the twenty odd years I've seen them. ps-he was deafeningly loud. )
Headliners Jane's Addiction were what the crowd came for though. I'd seen them on the first Lollapalooza tour in 1991, but hadn't seen any of the reunion shows until 2011. A sober-ish Perry Farrel (peripheral ya know) held down the madness, and guitarist Dave Navarro was a whirlwind of motion, spitting out blistering solos that simultaneously ripped large holes into songs and melodically stitched them back together again by the end of a run. Maybe the five years of touring has taken a little lustre off the silver spoon, but this show wasn't quite as energized as the 2011 and 2013 tours. (in 2013 I witnessed Navarro nearly punch out his guitar tech right on stage when his acoustic guitar kept failing during Jane Says). Still, a so so Janes Addiction show is much better than 95% of the bands out there. 2013's vintage stag films were replaced this year by something definitely more chilling. Girls hung and swung from the lighting rig like they had in the past. But when you looked closer, you could see they were fetish style hung from meathooks through their skin. You heard that right. I saw them backstage before the show, and they exuded a….ummmm….different vibe. A video below captures the painful action from the front row. (not for the squeamish)
Overall it was an amazing triple bill. Living Colour, although on the undercard billing, took the night hands down. The nineties, updated and backdated-and fully syncopated. All three of the bands are headliners in their own right.
July 22-Guns n Roses/Lenny Kravitz- Foxboro
The next night it was in the car once again and off to Gillette Stadium, home of the Patriots. Labeled the Not in This Lifetime Tour ( a reference to an interview Axl had done recently when asked about the chances of a reunion of the original lineup), this was an unexpected event. I definitely didn't expect any sort of reunion of the original line up, especially Slash. (Technically, without main songwriter Izzy Stradlin or founding drummer Steven Adler, this isn't the original line up). Knowing their proclivities for legendary train wrecks on tour, I waited to buy a ticket until the last minute, not convinced that this uneasy detente between Axl and Slash would actually hold. A reunion of Slash and Axl was certain to bring people out of  the woodwork, yet would they make it far enough through the tour to get here? Witness Axl breaking his foot on opening night and doing several full shows sitting in a huge throne. (Dave Grohl's super throne actually). I had my doubts.
Fans scooped up the overpriced tickets quickly, perhaps too quickly. But the promoters made a large miscalculation in booking two nights in Boston and tickets on Stubhub plummeted in price. 75 dollar tickets slipped to 17 bucks a pop. When coming through the turnstile, I was directed towards another ticketing area for a "free mandatory upgrade". Choices were simple: "Do you want floor seats or lower bowl 100 level loge seats?" My 24 dollar Stubhub ticket for a 64 dollar face value 'cheap seat' in the nosebleeds was now a 104 dollar loge seat. The upper bowl 300 level was roped off and empty. Half of the stadiums' 200 level was likewise roped off, and the 100 level loge was only about 80% full. Someone took a large financial bath on this particular show. Although Billboard reported a 92% of capacity ticket sale for Foxboro, the numbers they reported don't add up, as they used a 35,000 capacity figure for a stadium with a listed 69,000 seat concert capacity. This show didn't have more than 25,000 people scattered thoughout the bowl and floor. (More GnR lies?)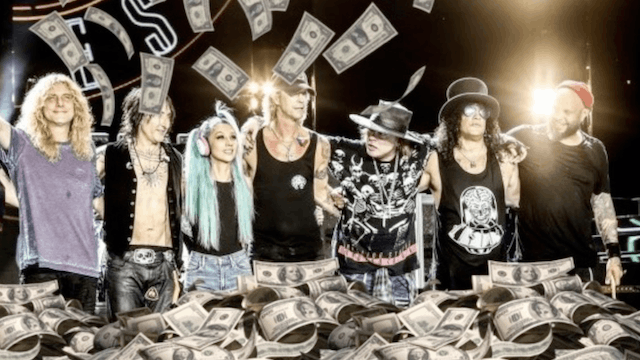 Opener Lenny Kravitz kicked off the evening in style. I'd thought it an odd pairing until I found out that Slash and Kravitz had gone to high school together, and he had jammed together with GnR in 1992. A seven song set seemed short, but nobody was here for Lenny.
One question many people had was 'Will they go on before midnight?' as Axl was notorious for coming onstage literally hours after showtime. There must have been a strongly worded clause in their contract involving forfeiting pay, because the band came onstage before 8:30 pm. Axl looked good, no longer the beanpole, sinuously serpentine, but also not the beer inflated parody he had begun to turn in to. (in comparison, Slash is starting to increasingly resemble Howard Stern circa 1995). He kept a leather cowboy hat on over his omnipresent bandana (to cover the bald spots). Strong in voice, he had definitely worked to get his end of things solid. It's So Easy kicked off the night, and three of the first four songs included Mr. Brownstone and Welcome to the Jungle. Wedged in there early was Chinese Democracy from their latest incarnation, and Slash must have wondered why the fuck he was doing playing on something he not only hadn't written, but actively  disapproved of. He wandered a bit aimlessly during this song. Further Chinese Democracy material combined with some questionable tracks from the Use Your Illusion albums to bog the proceedings down.But though this unit may not be a 'real' band, they are nothing but professional. Slash, resplendent in a 'Mickey Mouse boning Minnie Mouse doggie style' shirt kept mostly to himself. In fact, the stage was so huge, Slash and Axl could have actually not violated a restraining order and still played the show on the same stage they stayed so far away from each other all night.
There were some unexpected highlights. An instrumental version of Pink Floyd's Wish You Were Here and a cover of the Who's the Seeker were a couple of 'out of left field' moments. Live and Let Die (my second in four days) has never lived up to McCartney's version, but was still a highlight. My largest shock was a surprisingly fleshed out version of November Rain. Axl tapped timidly on the piano (Elton John is in no danger here) while the band rose up in a powerful crescendo. I was amazed that this fairly weak song was transformed into perhaps the highlight of the evening.
The grand finale, Paradise City brought everyone back to life as the whole end of the stadium literally exploded.(Axl either intentionally or accidentally sang over Slash's iconic guitar solo introduction here. Puzzling)  We were ushered out into the wild before 11:15, a time usually reserved for their coming ON to the stage. In retrospect, though this was a nearly three hour show, it did illustrate the fact that this band doesn't really have the material to sustain a show of this length. Sometimes less is actually more. But the band did defy predictions of imminent implosion and make it through the tour successfully without any fights onstage, prolonged hissy fits, three hour delays or crowd members being attacked by Axl  (hello St. Louis). I wasn't blown away, but was very glad I went.
August 21st  Ween Philadelphia
Well, this one wasn't a home game by any stretch of the imagination, but it was for Ween. But a Ween reunion isn't something one needs to split hairs about. If they are playing and you can physically drive there in a reasonable less than six hours time? Go.
Ween had been off the road for a while. Gener's meltdown in Vancouver in January 2011 signaled that-if not the end of the band, a long hiatus was needed.
The power of the Boognish is strong though, and when Ween announced three shows in Colorado for February, the tribe gathered once more. (Personally I'd wished they'd opened that run with Bumblebee part 2, but What Deaner Was Talking About Made a similar point)
A 90+ song setlist for the three days there showed zero repeats of a single tune, a difficult feat. But they had announced very few shows. Were these it? Soon we knew there would be a three night run in New York City at Terminal 5 in April 2016. They were impressive there, delivering another 100 songs over three nights. Spot dates were announced here and there for the summer, and the whole tour seemed very tentative, likely depending on how Gener's new found sobriety held up. The idea of seeing them on the waterfront under the stars in Philadelphia was definitely appealing. So once more out on the road. What was less appealing was a forecast for torrential rains, 100% guaranteed. Somehow upon arrival, the sky cleared, and though the venue was a bit of a mudfest in spots, the rains abated for the whole evening.
A setlist that delved heavily into Chocolate and Cheese (they had to play Freedom of 76 in Philadelphia, right?) combined with deeper cuts (the Thin Lizzy-ish Gabrielle) to make an incomparable 31 song set. Buenos Tardes Amigos closed out the evening in a large group sing a long. Seeing Ween in their home state? Pretty amazing experience.
Foolishly I decided to give their Boston show two nights later a miss. Deaner ended up posting online (something he doesn't usually do) that the Boston show was the best one of the 2016 reunion and was one of the top 25 Ween shows ever. Fuck. A listen to readily available bootlegs of the show confirm they were pretty off the hook that night. I'd heard more recently that Lockn Festival crowds were questioning why Ween was on the bill, which makes one wonder about the state of jam band audiences these days, and a quick read of the comments on the Lockn forum shows some pretty calcified brains flickering towards flat lining. Sorry folks, there's life beyond Phish (who actually love Ween). Or, as someone posted "I'm sorry, Umphrey's fans opinions just don't really count". These people haven't been even exposed to Frank Zappa or the Mothers of Invention, never mind the Tubes or 10cc or Sparks (all precursors of Ween's ability to jump genres and parody social culture), so there's a learning curve of musical literacy out there that many  have missed. I could go on a soapbox rant on the increasingly limited musical awareness populating the twenty somethings in the festival scene, but lets move onward to something far heavier…
August 25 Black Sabbath-Great Woods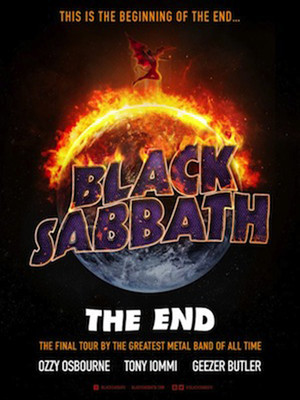 Four days after Ween, the concert-mobile trekked out once again. Back to the venue where this whole summer started, 80 days and a weighty daze later we've come full circle back to Great Woods.
Black Sabbath has declared this to be the final time on the road. With Tony Iommi battling lymphoma at age 66, the end of the ride has been more forced upon the band than any internal band decisions. I'd seen Sabbath twice on the "13" tour in 2013, and although the word uneven comes to mind, many of the strengths that made this band a legend already forty five years ago were still on display. That album hearkened (with obvious intention) back to the glory days of Master of Reality and Volume 4, and the new material in concert wasn't half bad (even prompting Ozzy to say 'hey I'm starting to LIKE that one"). Constant ice water baths over his head kept him conscious. He reminded me of grandpa at Thanksgiving  finding out there's only one beer left in the fridge  as he scurried shuffling across the stage. This year the baths were minimal, and Ozzy seemed far more energetic and in better voice. (On the 2013 tour he was frequently out of key by the final two songs Dirty Women and Children of the Grave) With this the final tour, there was no time for newer material-it was full on retrospective time. Black Sabbath, Fairies Wear Boots, After Forever and Into the Void opened the show. I had received a coupon for $16 lawn seats for this show and grabbed em up. Deciding to keep on the  move and remain directly behind the arena seats, I had a great view of the whole show (and from every angle to boot). Here's the start (cribbed from Omaha):
Iommi seemed to have lost a step or two in his trademark brittle cascading solos, but what the hell, he almost expired last year. Ozzy's inexplicable improvement compensated for this small trifle nicely. Geezer Butler remains the thundering ball of rumbling bass energy that he has been for 47 years in the band. Former Ted Nugent and Rob Zombie drummer Tommy Clufetos held down the rhythm seat. His overly histrionic drum solos tend to detract from the overall feel, but I do understand that this band needs a dependable workhorse to let Butler and Iommi lay their magic on top of. I personally would love Bill Ward's free flowing improvs underneath, but as Ozzy said: "I'm not going to be responsible for killing one of my best friends by making him tour!"
This is Your Captain Speaking, Your Captain Is Dead
There were a couple of shows I intentionally missed this summer. The first was Yes. They were continuing their album showcase. This time it was Drama and half of Tales From Topographic Oceans. Here's where I had a problem: Drama was a vehicle for Chris Squire primarily in the wake of vocalist Jon Anderson's departure in 1980. But with Chris Squire's untimely death, Billy Sherwood stepped in and donned the long coat to give the impression that Squire's ghost might still be flickering around. It isn't. Another large part of that album is Alan White, who has dropped off the tour with a bad back. So let's take attendance: Jon Anderson? No. Chris Squire? No. Rick Wakeman? No. Alan White? No. Steve Howe? Yes, the last one standing. With Tales From Topographic Oceans being such a creation of Jon Anderson collaborating with Steve Howe, and Ritual in particular being a vehicle for Squire's legendary bass solo, I'd have to agree with the  many reviewers who have said that the band should have postponed the tour until Alan White healed up. Although people said it was a fun night, it is getting perilously close to being a tribute band. (In a current Steve Hoffman website poll, 88% of respondents pick Anderson, Rabin and Wakeman as the authentic Yes compared to 12% for the current Howe-led Yes). I didn't want to tamper with the decades of awe inspiring Yes shows programmed in my brain with a severely diluted version. Squire is just too integral to not only the band, but these two albums in particular.
While on the topic of tribute bands, I also declined tickets to go see Kiss. Now this is a band that has crossed the line from rock n roll, to an actual stage play being put on with actors playing the part of Kiss. Eric Singer and Tommy Thayer don Peter Criss and Ace Frehley's make up each night and pretend to be them. Sure, the Dead have John Mayer in as 'Jerry', but they don't strap a pillow around his gut and slap a fake beard on him, do they? Sure it's entertainment, but let's be real-it's a choreographed show with rehearsed dialogue, not a rock band anymore
In conclusion, this was quite a parade of talent on view, and a highly recommended summer diversion. Get out there, highway star….
Cats on the bandstand, give 'em each a big hand
Anyone who sweats like that must be all right
No one wants sometimes, no black eye
Just another cat beneath the stars tonight
Cats down under the stars
Cats down under the stars
Final tally-Eleven bands, seven shows, five venues, 225 dollars total in tickets, 1585 miles traveled.