The summer concert season started early this year, seven days into spring in fact. One thing friends noticed was the lineup-Mott the Hoople, Blue Oyster Cult, Jethro Tull, Pink Floyd…what year is this anyway? Lots of shows went down criss crossing the Northeast, blossoming at a furious pace, so let's see and review what transpired: (note: some of these were intended as their own articles, but due to time constraints, have been all sandwiched into one longer piece)
Scroll down to see in order
Pat Metheny, Mott the Hoople reunion, Blue Oyster Cult, Nick Mason's Saucerful of Secrets Pink Floyd Extravaganza, Acid Mother's Temple, Martin Barre's 50th anniversary Jethro Tull reunion, Sunn O))), the Lemonheads reunion, Michael Schenker Group Festival, Judas Priest with Uriah Heep, Slayer, Musical Box
Pat Metheny – Academy of Music Northampton March 29th
This show was going to be a real unknown quantity. Although I had seen Metheny under many different guises (going all the way to the seminal American Garage tour), I had no idea what to expect here. Little did I know that although two unknowns were onstage with Pat, it would be the closest to a Pat Metheny Group show I had seen in decades. James Francies needs to be name checked here. A relative unknown and newcomer in the jazz world, he was a monster on keyboards. Piano and synthesizers danced through songs in a fashion that many would mistake for Lyle Mays. However, most of that came out of his right hand while his left hand delivered convincing and dexterous jazz bass lines-incredibly difficult to pull off for any musician.
As a guitar/keys/drums trio, several songs were very close to late 70's early 80's golden age of the Pat Metheny Group quartet -a stunning achievement for a trio. The show finished with an extended acoustic solo set from Pat that spanned his now four decade career. setlist here
Mott the Hoople – Orpheum Boston April 9th
Mott the Hoople in 2019? A Conclave of the 96 Decibel Freaks
I'm one of the boys
One of the boys
I don't say much but I make a big noise
And it's growing alright its growing -One of the Boys 1972

This is a show that had been on my list since it was announced. I mean really, Mott in 2019? An extremely unlikely proposition. I had been crushed that I'd missed the 2009 few show reunion in London which featured Ian Hunter, Mick Ralphs, Verden Allen, Overend Watts and Dale 'Buffin' Griffin (Griffin passed away in 2016, Watts in 2017), and the quick 2013 London reformation. I figured it was over.
I was wrong.
Somehow, they managed to get it together to re-create the 1974 tour, a short 45 years after the fact, for an short 8 show US tour. Now first, Ian Hunter has always been sketchy about his actual age, but it was always known that he was about a decade older than his 60's rock contemporaries. Conservatively going by his listed birthday of 1939, it would put him in as the only octogenarian currently fronting a 70's superstar glam rock band on the planet. Quirky keyboardist Morgan Fisher and guitarist Ariel Bender (Luther Grovsenor of Spooky Tooth provenance) rounded out the 1974 original lineup, now augmented into an octet.
They nimbly navigated an exact reproduction of their 1974 tour setlist with some alterations of lyrics (All the Young Dudes managed to change 'speed jive, don't want to stay alive, when you're 25'  to 'when you're 95').  Hunter also acknowledged that the current era of PC makes some of their 70's misogynist leaning and slang inflected lyrics seem out of touch. Hidden from view from most behind Morgan Fisher's grand piano was an ice bucket with chilled wine ready to go for the band-Fisher kept a glass going perched over the 88 keys. From the opening notes of American Pie to the closing of the elegiac and retrospective Saturday Gigs, it was a blur of pure rock n roll. Brian May of Queen and Mick Jones of the Clash are quite clear that Mott were one of the reasons they became full time rockers, and though time has obscured some of their influence, it was obvious that these guys are still masters and originators in the rock field. Sure Ariel Bender still can't really play lead guitar very well, and some songs teetered on the edge (Lounge Lizard had to be stopped so they could begin again), but this was a masters class in 70's rock, put on by the 1974 version of the band. Spine chillingly good shit. Perhaps it is the current PC era that is out of touch–musical brutality, a touch of violence and pushing the envelope of propriety never really go out of style. The highlight of the spring. Setlist here.
Blue Oyster Cult-Academy of Music Northampton April 11th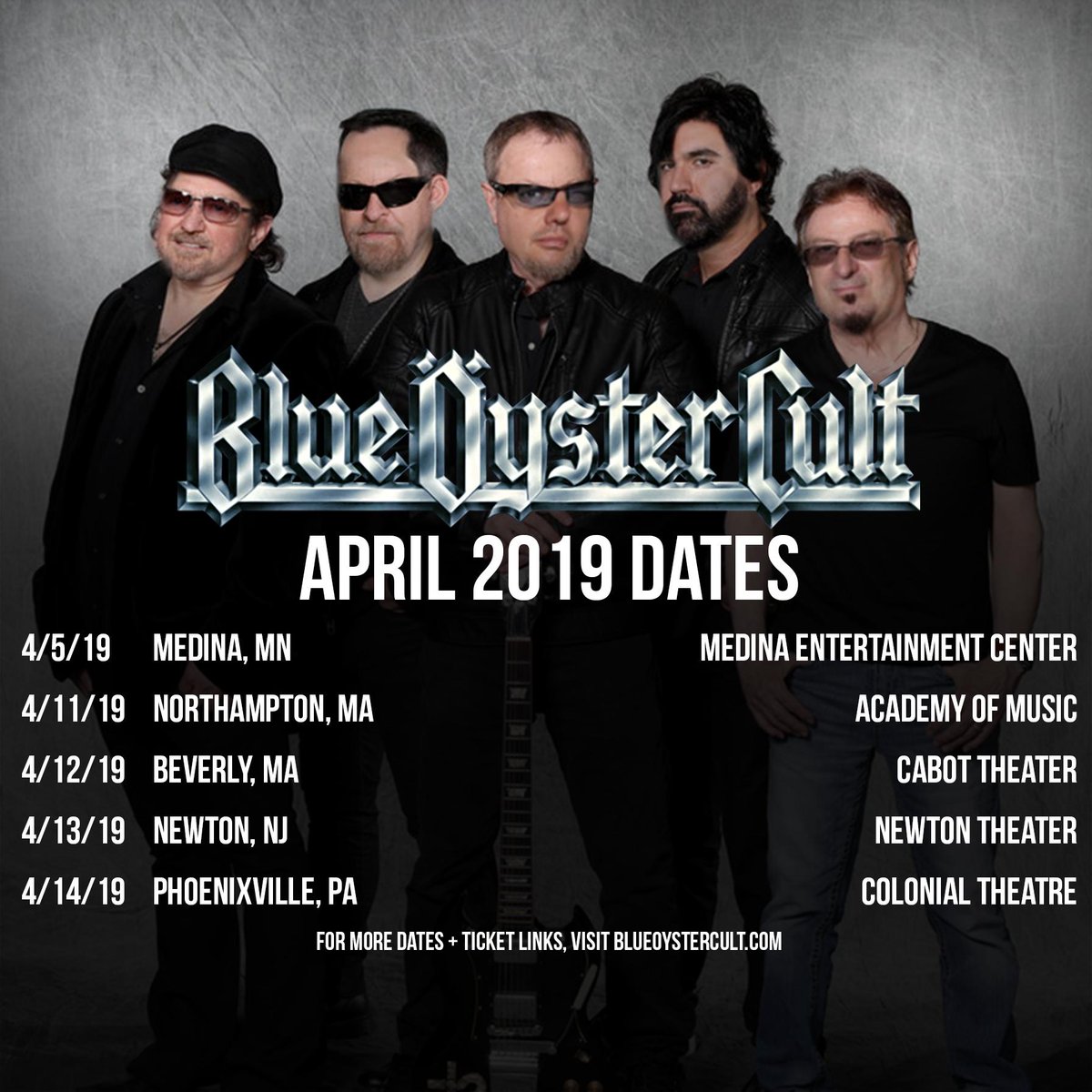 Two days later….This show didn't get a lot of people super excited, as BOC can be known to phone one in here and there lately, and their setlist has little variation from night to night (or year to year). The departure of dynamic former Utopia bassist Kasim Sulton has the band down to founders Eric Bloom and Buck Dharma with a supporting cast of sidemen. To be fair, the band lost their drummer and bassist pair, the Bouchard brothers in the 80's. Allen Lanier, their last founding member to leave, departed after the 2007 tour (though he did some 2012 shows).  So folks going around saying 'there's only two of them left' haven't noticed that it's been that way for 12 years now, and there were only three of them since the mid 80's.
This was no better nor no worse than anything I'd seen from them in the last ten years. The Last Days of May, Godzilla, Cities on Flame, Reaper-at this point you know you will here these every night. It's the deeper cuts off newer albums that give each tour a signature feel. The evening opened with the questionable Dr. Music from 1979's Mirrors. It was an obvious attempt at the time to garner some airplay and commercial success (somehow ignoring the massive chart success of Don't Fear the Reaper and Godzilla over the previous two years.) It sank like a stone, like the album. Not an auspicious start. Other clunkers like the Golden Age of Leather and the Vigil slowed things down. Rarities from Agents of Fortune get trotted out (they seem to alternate True Confessions and Tattoo Vampire each night.) They started to get into gear about halfway through the show, and shook off the lethargy that seemed to grip the early part of the evening. Overall a rocking night from a seminal band, but a little more variety in their sets would be welcome.
Nick Mason's Saucerful of Secrets-Oakdale Theater, Wallingford CT April 12th
Nick Mason Live: 'Oh My God, Somebody Still Fucking Cares!'
One night later…..This show was going to be another unknown quantity. Mason was never known for his solo stuff, and though his hypnotic tom tom work is integral to Pink Floyd's soma-like trance work, he is never mentioned in the same breath as the giants of drumming of his era (Bruford, Collins, etc). Once I figured out that this show would be based primarily on Saucerful of Secrets and Piper at the Gates of Dawn era material (1968 and 1967 respectively) and try to unlock the Syd Barrett era? My hopes rose considerably. It was a hope that was delivered upon nicely.
With an eclectic band: bassist Guy Pratt from the last Pink Floyd tours, Ian Dury and the Blockheads guitarist Lee Harris,  Spandau Ballet's Gary Kemp and keyboardist Dom Beken of the Orb, one wouldn't know what to really expect. (heard in crowd-'Spandau Ballet? Well this guy has seen the error of his ways, hasn't he?'). The show began with the one two punch of Interstellar Overdrive and Astronomy Domine, two of founding member Syd Barrett's signature tunes. The twin guitar attack of Kemp and Harris trading leads where Gilmour would start to fade, pushing each other from the end of one solo to trade off brought the song to new heights of madness that lent a distinctly crackling edge to the psychedelic feel.
Seven songs from their Syd Barrett 67-68 phase graced the set, a set which for many Floyd heads had zero recognizable songs. No tunes from Dark Side of the Moon or later were included:  No Wall, no Wish You Were Here, none of the radio staples of today's classic rock station. Obscured By Clouds, More, Atom Heart Mother, Meddle? For a true Floyd head, this was a cornucopia of rarities. Mason was a treasure of tales during the whole show, sharing stories both familiar and unknown (Barrett's troubles stemmed not from LSD overuse, but mainly from the skull popping hallucinogen STP, which took three days to recover from-likely the cause of his noted 1967 US tour meltdowns onstage, the thousand yard stare he had on TV and in interviews during that tour. Andrew Loog Oldham and Pete Townshend had similar STP related experiences in the US during 1967, bearing out the sanity zapping qualities of this little discussed drug). Mason also gestured to his large chinese gong, commenting that he finally got to play it during  Saucerful of Secrets, as Roger Waters was a bit of a gong hog back in the day.
The encore of Saucerful of Secrets and Point Me at the Sky rounded out an evening that far surpassed what I had expected. I realized there are actually two kinds of Pink Floyd fans: 'real' ones for who this was the pot of gold at the end of the rainbow, and the classic rock ones, those who think Dark Side is their first album and the Wall is their last album. Some were disgruntled, audibly griping about the lack of recognizable tunes, while others (like the fan quoted in the article title above, who yelled it loudly-while shirtless-at no one in particular) who knew this was a rare display of even rarer genius on display. They firmly captured the loose psychedelic feel of the improvisational era of Floyd but injected enough stability to anchor the more free flowing stuff like Atom Heart and Saucerful. Another major highlight of  the spring, and highly recommended. Unlike Mott, you might actually have a chance of seeing this show. Setlist here
endnote: this was the first show of the spring where I noticed a new and very strange phenomenon-people had their heads buried in their smartphones, absently scrolling through their Facebook feeds and actively not watching the show for long periods of time. I know this is common behavior for teenagers in classrooms, but seriously? I've seen people film a whole show on their smartphone and watch the screen instead of the show, but….wow.
Acid Mother's Temple and the Melting Paraiso UFO – Space Ballroom Hamden CT April 19th
Seven days later…Acid Mother's Temple rolled through town. These guys are true road warriors, check out the tour above, 46 shows in 46 days? For those who are unfamiliar with this Japanese psych/space rock band, here's a taste of them doing a cover of Gong's Flying Teapot:
You know you will always get Pink Lady Lemonade and Cometary Orbital Drive (they play these every night). The band does Gong/Hawkind inflected instrumental jams that are tight and upbeat-they used to do the Wizard off Black Sabbath's first album as an instrumental. I'd known of them for a long while-to call them prolific is a serious understatement (they've released 60 studio albums since 1995). This was my second time seeing them in two years, and they once again were amazingly consistent from opening note to final crash of the cymbals. If you like space rock, you need to put these guys on your calendar. With 25 states on the tour, they most likely are coming to a venue near you.
Martin Barre Band 50 Years of Jethro Tull – The Academy of Music Northampton MA April 20th
Too Old to Rock n Roll Too Young to Die?
One day later…back once again to the Academy (these guys booked quite a spring). Some are unaware that Ian Anderson fired the whole Jethro Tull band to take full control of the name (chronicled here) in 2012. Anderson continues on as the only member of Tull, and has been severely restricted in his vocals for two decades now-still doggedly touring as JETHRO TULL. So for the 50th anniversary of Tull, Barre took the reins and created a full tribute to the history of the band, including getting key historical and  integral members Clive Bunker 1967-1971 and David Palmer (now Dee) 1975-1980 on drums and keys respectively, as a kind of 'fuck you' to Ian Anderson and as a gift to the fans, basically creating two rival versions of Jethro Tull touring simultaneously.
Barre recently rearranged the set to make it a 'true retrospective' that flowed chronologically through Tull's career.  Vocalist and rhythm guitarist Dan Crisp has a vague similarity to Ian Anderson circa 75, and has a hint of the animated stage presence that captures the spirit that Anderson interjected into shows so well. Set one was 18 songs covering material from their debut in 1968 "This Was" up through 1971's masterpiece Aqualung. Deep cuts that would please even the most diligent chronicler of Tull  lore took the forefront.  To Cry You a Song, Teacher, Dharma for One, Cheap Day Return were some of the more familiar deep cuts that Tull heads know well combined with more obscure tunes like the rarely heard For a Thousand Mothers and Back to the Family from 1969's Stand Up.  The set ended with an acoustic rendering of Locomotive breath-a clever take to finish up the first half.
A nine song second set kicked off with War Child and the obscure Sea Lion from the 1975 album of that name, then bypassing through some of their catalog-skipping Too Old to Rock n Roll Too Young to Die, pausing for Songs From the Wood and Heavy Horses,  and then omitting everything else until hitting their 1987 hit Steel Monkey (ya know the one that got them the heavy metal award over Metallica in 1989. ) An electric Locomotive Breath brought the proceedings to a crackling end.
Bunker played the only drumkit onstage for the whole show, very much unlike aging classic rock drummers who many times have a partner on a kit next to them, or are absent completely (Bill Ward, Alan White, Phil Collins etc.) Pounding the skins in Tull is no easy feat for a 73 year old dude.  Palmer seemed distracted at times, sometimes choosing not to play at all on songs that clearly had a strings part. Flashes did come here and there though of the rollicking keyboard spirit that once flowed from John Evans and Palmer.
Whither Tull?
So in the end, it is kind of sad that Ian Anderson couldn't get it together for a proper 50th anniversary reunion. However, Tull fans should be extremely glad that Barre took the initiative to seek out Burr and Palmer to create a special event to commemorate the anniversary. Hell, there haven't been three real Jethro Tull members in Tull since 1980, as they were reduced to Barre and Anderson after that. So in a way, this was actually the real Jethro Tull reunion.   THIS WAS
Sunn O))) – College Street Music Hall Hartford April 26th
Sunn O))): Idiot Savants or Savage Sonic Geniuses?  Live 2019
Six days later….Off to Hartford to see Sunn O))) for the first time. I had been prepared a bit, owning a few of their albums after being turned on to them by a friend who highly recommended them. He said: "here's Sunn O))) in a nutshell-they fill the club floor to ceiling with a fog machine until you literally cannot see the stage. Then the amps start to hum loudly and they come out in black robes and hit a chord at jetliner landing in front of you volume. They let it feedback through all the harmonics and hit the same chord again. That's pretty much it" No discernable drums, vocals or bass seem apparent. For my friend was correct, you never really see the stage. (nor were any songs apparent-they droned rhythmless for the better part of 90 minutes.)
The first song was variations on a single chord lasting 17 full minutes. The club shook and you had trouble seeing more than 20 feet. After I went downstairs to use the restroom, I noticed some phenomena they must be aware of. The pipes in the overhead of the mens room were squawking intermittently in time to the pulsing harmonics. The hand railings likewise were humming in a different frequency. The walls of the large brick club rumbled occasionally. The club was playing along as a fifth member.  I thought 'hey these guys are doing experiments with sound as much as actually playing.'  Shit like Tony Conrad and LaMonte Young used to do,(John Cale was a huge drone fan as were the Velvet Underground) and very much like Glen Branca's over amplified guitar assault orchestra (the one that spawned Sonic Youth). Lou Reed's Metal Machine Music is another very strong touchpost. Just remove the amphetamines from that album and drop in cough syrup as the replacement fuel.
Some eerie trombone cut through the  mist for a while, changing the ambience ever so slightly. There seemed to be four band members onstage, but one could not be 100% sure it wasn't a guitar tech wading into the mist to examine an amplifier crying out in pain for assistance.
They call their stuff Life Metal now, I suppose as opposed to Death Metal. In the metal world, you really can't get any slower, more tuned down or heavier than Sunn O))), they've taken it to its logical conclusion. And if you think about it, literally anybody could be in the band, we'd never know. They've created the ultimate enigma: who's onstage? What are they playing? Do they know they mimic early 60's NYC avante-garde classical experiments? Does any of this shit have a song title? Good questions, no easy answers. Worth seeing for metal heads, volume freaks and fans of avante-garde noise. Setlist?? here
Don't wear earplugs either,  for full effect.
The Lemonheads – Gateway City Arts Holyoke MA May 1st
Six days later….The  Lemonheads are embarking on a world tour this spring and summer, and to kick it off, they did a show before the tour started  to kick the rust off at a semi secret show in Holyoke, knowing the proximity to Northampton and to  local rock stars (J Mascis and Murph from Dinosaur Jr live nearby-Murph was in the Lemonheads for a bit) would bring out the 1998 hipster crowd.
Tommy Stinson, most famous as the youngster in the Replacements opened. (somehow everyone forgot he was in Guns n Roses for 18 years in the dreadful Chinese Democracy era)  He came out on solo acoustic and rambled through songs: working out live what he might play on the upcoming tour. he sometimes fumbled songs quickly, stopping some completely, abandoning some after a minute, turning off his pick up and mic when he thought nobody was paying enough attention, walking into the crowd to sing from the middle, unamplified. Intimate.
The Massachusetts born Evan Dando came out onstage slowly apprising the house.  Dando has been everywhere-Hollywood films, rubbing elbows with Keith Richards, sex symbol of the mid 90's, junkie punchline in the late 90s, somehow fronting MC5 in the aughts-he has seen the pinnacles and depths of stardom and drug abuse. And yet here he was, looking spry and  healthy, hopping onstage ready to rock. (an excellent article/interview on his return can be read here). He moved well and seemed infused with the spirit of the early 90's.
The setlist leaned heavily on It's a Shame About Ray and Come on Feel, and the drawn out alt country inflections reflected the influence Dinosaur Jr has had over them through time. The show was short, but if getting the bugs out in front of an adoring crowd was the mission, it was mission accomplished.  Setlist here
Michael Schenker Fest The Palladium Worcester MA May 10th
The Return of the Mad Axeman
Nine days later…Michael Schenker Festival headed into Worcester. Not many people had any idea of what to expect (given his notorious reputation for not showing up from time to time for his own shows). I'd seen Schenker in the mid 90's UFO reunion in NYC, and he burned the sky in a club that let in easily 500 over the fire limit. (god bless the Limelight)
What I didn't expect was that he would feature almost EVERY singer MSG has ever had all on one stage.: Gary Barden,  Graham Bonnet, Robin McAuley and Doogie White of the most recent era. It was unprecedented to see all of these egos forced to share a stage and share lead vocals on songs they thought were their own.  They came out in order-Bardens (voice now thin and unable to hit the big notes, he never really could back then either), Bonnett (still sounds and looks like he did back in the day-knows his limits better than Bardens), McAuley (looking like he was auditioning for Priest, more of a yelper) and Doogie (resplendent in kilt-the least known but the most powerful singer of the four)
Schenker dragged them through a 31 song set covering UFO, Scorpions and MSG material, soloing relentlessy throughout. He stopped a few times to tell stories in halting English  about how his brother Rudolph stole everything he knew musically and stylistically from him. (those Schenker brothers know how to hang on to a grudge) The trading off worked quite well as they worked in duos, trios and full quartets-sometimes trading off lead vocals, sometimes supplying powerful harmonies the material requires.
Occasionally one could see why Schenker was thrown out of the UFO reunion-too many notes. Solos cascaded perfectly but endlessly between verses, and it took a concerted effort from the band to make sure he came back on cue, which he usually did. In the past, he would blow through these on stage stop signs and solo blissfully for another  five minutes-spitting notes out like a Teutonic Hendrix on speed. (Which he kind of is.) The highlight of the show had to be his signature tune, written as a teenager, UFO's  Rock Bottom.  Excellent detailed tour review here
Brilliant idea to bring all the singers, I'd like to see this  happen with other  bands of the era, but the egos would  have to be checked in rather large footlockers ahead of time.
Mind bending setlist here
Judas Priest and Uriah Heep – Mohegan Sun CT May 16th
Six days later….Tickets for this tour were generally expensive on Stubhub for most dates, but for some reason got down to seventeen bucks for Mohegan the day before. So once more jumping into the concertmobile, it was off to the casino.
Openers Uriah Heep had been long on my list of things to do since early college era. I had their greatest hits LP in heavy rotation for my first two years in college. One by one, the founding  members of the band fell by the wayside: distinctive vocalist David Byron departed in 1976, Keyboardist and main songwriter Ken Hensley left in 1980, bassist Gary Thain was electrocuted and died onstage in 1975,  drummer Lee Kerslake technically not a founder but was main drummer from 1971-2007…well you get the idea. Only guitarist Mick Box remains, leaving the air of a tribute band of sorts. Competent and efficient, it didn't really sound much like Heep without Byron and Hensley.  They are somewhat the model for Spinal Tap (though Status Quo is the main model for that film). Easy Living did get the crowd going a bit though. setlist
Good God, Pluck Me
The main event though was Judas Priest. I'd last seen them in 2008 with Ronnie James Dio's version of Sabbath opening. Halford looked unhealthy, kept his sunglasses on full time, wandered around bored and relied on effects to fill out his faltering voice. Dio  destroyed the  headliner that night, despite Glen Tipton and KK Downing still being in Priest. (his last show ever was exactly a year later; he passed away less than two years after this gig)
Tonight, Halford was a new man. He doffed the sunglasses early on, and although he left the stage after nearly every song to go backstage (vocal cord treatment? Lines of coke? A hug?), he came back refreshed each time. (why the lead guitarist also went backstage nearly as much is also a mystery). With KK Downing chucked out of the band, and Tipton troubled with Parkinson's disease and only able to play select shows, we were left with bassist Ian Hill and Rob Halford holding the fort. Richie Faulkner has proved to be a worthy replacement for KK, and has held up his end since joining in 2011. The new album Firepower is oddly  also a source of strong material, the best album since 1990's Painkiller. (which itself was an anomaly)
Halford was vocally strong throughout, far more powerful than eleven years ago.  Much more animated, he brought some amazing vocal pyrotechnics to the forefront, sometimes reaching the level of the monumental Unleashed in the East live album of 1979.  I had told my companion at the show that other than Freddie Mercury, Rob Halford was the most powerful vocalist in rock. As he hit his signature notes during Victim of Changes, they turned and said "ahhhh that's what you mean"  Damn straight. Setlist here
Slayer, Lamb of God, Amon Amarth, Cannibal Corpse – Great Woods Mansfield MA May 25th
Nine days later…I'd seen Slayer in August  on their summer/fall  leg of their lengthy farewell tour, and they were surprisingly strong. So strong, I'd decided to go to what was on paper their final US show ever (since this show, Les Claypool let slip that once they get back from Europe, the final leg will begin in Madison Square Garden and end in the LA Forum.)
Cannibal Corpse opened this show. They were rather notorious in the late 80's for their lyrics and album covers, but didn't sound much different than most of their contemporaries like Death and Kreator–think a bunch of ball bearings in a blender with the Cookie Monster growling on top. Recently their guitarist Pat O'Brien went on hiatus for his arrest following a break in to a neighbors house claiming the rapture was imminent. His house burned down during this event, and police ended up finding a huge cache of weapons which included two military grade flamethrowers. Throw in lead vocalist George "Corpsegrinder" Fisher and you have quite the opening band.
Amon Amarth are melodic berserkers from Sweden cut out of the same cloth as Children of Bodom. Bands like this sound generally like a drum machine banging out 180 BPM rhythms while twin guitars playing lock step full speed trebly arpeggios. This kind of stuff can run its course within a few songs, but the crowd ate it up.
Lamb of God I'd seen on the last leg and was underimpressed. They seemed to have much more in common with an extravagant Wrestlemania performance than a concert band. This night, they were a little more listenable and vaguely enjoyable. Still, all of this was only the prelude to:
Slayer Slayer Slayer….
The band hit the stage in an explosion of sound and flames. They were solid but not as tight as they were in August. One of the problems was that this was an open to the air shed. This meant their extensive front of the stage flame display was considerably toned down (to prevent an errant gust of wind turning the band into a weenie roast) and the fact that bands like this need four walls and a roof to bounce the sound off. I'd noticed this phenomenon when seeing Ministry twice in '92 on the Psalm 69 tour,  both outdoors and indoors. The sound needs containment. Although they still stood head and shoulders above the openers, I am awaiting the final leg. Hell awaits. Setlist
fake Genesis errr the Musical Box – Calvin Theater Northampton MA May 30th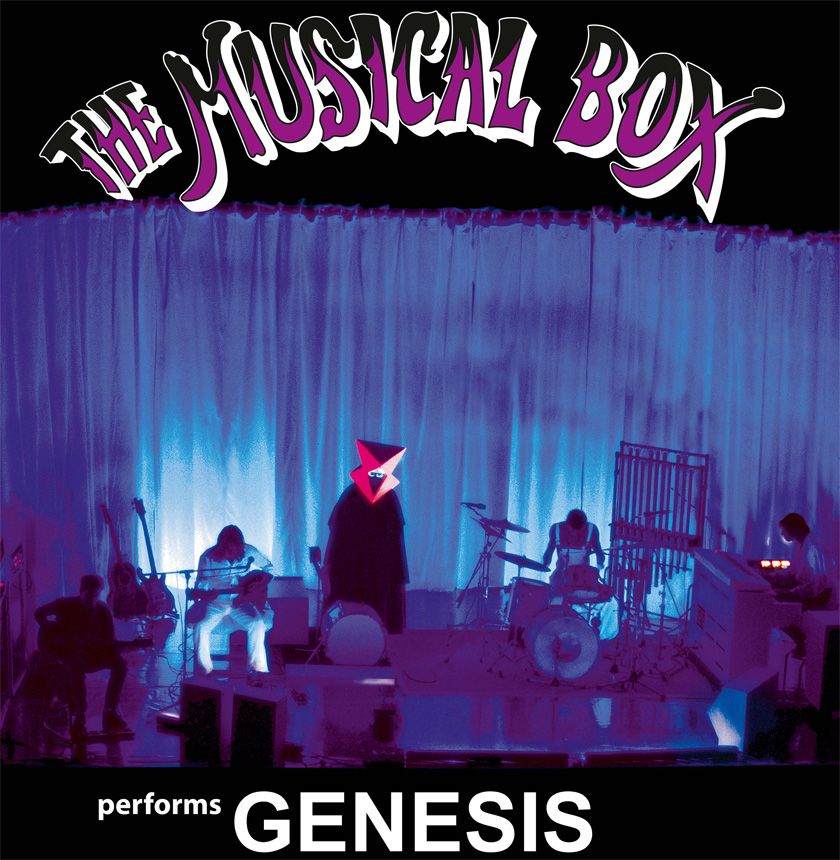 The phenomenon of the high end cover band is a bit of a mystery. Dark Star Orchestra went from playing specific historical Grateful Dead shows in  their entirety in clubs to festivals and theaters (with the commensurate jump in ticket prices) and the  Australian Pink Floyd can play arenas along with arena pricing. Paying a $35-$60 scale for tickets for a cover band? This says a lot about the current state of rock n roll
A Genesis cover band is a rara avis in the rock world. Especially one that focuses solely on the Peter Gabriel era of Nursery Cryme, Foxtrot, Selling England by the Pound and the Lamb Lies Down on Broadway. Even rarer is a cover band approved by the parent band, Genesis and even Peter Gabriel. Like the Australian Pink Floyd, they have gone to the parent band to buy original props and light shows of the era from them.
Set one featured newer non Gabriel  material from the Phil Collins era of Trick of the Tail and Wind and Wuthering. The sound at the Calvin was a bit murky, awash in too much reverb. A couple of songs got to the point where they were starting to lose each other onstage and they had to work to keep the songs from falling apart. Dance on a Volcano in particular was affected -the tight syncopation of the original was murky and lacking the tight unison slaps punctuating the song. Set two was a bit better, focusing on the Lamb Lies Down on Broadway. They came to life in set three, based on Trespass, Nursery Cryme, Foxtrot and Selling England. This stuff is their bread and butter and what they built their reputation on.
Formed in 1993, they are currently on their 8th Tony Banks, 5th Phil Collins, 3rd Steve Hackett (current one wears a Hackett wig). Only faux Peter Gabriel (Denis Gagne) and faux Mike Rutheford (Sebastien Lamothe) have been hanging in there from the beginning.
How did they sound? From a critical eye, they had their ups and downs. fRuthefords's bass sometimes sounded like it was coming from a blown speaker (fuzz box poorly applied?) and the bass pedals could use a touch more oomph. fHackett sounded far more like Daryl Stuermer's 1978 and onward guitar version, post Hackett. He also was waaaay too quiet in the mix every time he tried to push a lead to the forefront. Part of this had to do with the reverb that was slathered on everybody onstage-things started to all recede into one big ball of blur. The band carries a fGabriel and fCollins to bring more authenticity to the proceedings, and the fGabriel guy had it nailed pretty perfectly. He also was able to play a pretty good flute as well, something that we sometimes forget Peter used to great effect from 71-74.  fBanks did a pretty good job on his mix of vintage and current keyboard gear-eliciting a loud shout of "SICK" once the impressive version of Cinema Show ended. This song was the highlight of the evening. I was a little disappointed to not see them try any sections of Supper's Ready, but the rare Can Utility and the Coastliners from the same album was a nice replacement. The encore, their version of the song that gave the band their name was properly raucous. Last year the band sold out this venue quickly, tonight it was about 1/3 of a house.  Here is a taste of last year at the Calvin:
Overall, they took a while to warm up and hit their stride. Perhaps a brand new drummer and keyboardist had something to do with it. They do have a ton of equipment, and are attempting to play some of the most challenging rock music ever written. They all are able to pull out 12 and 6 string guitars, play flute, cello in addition to their main instruments, so they need to be recognized for what they are pulling off here. Perhaps the best way to describe this is they are putting on a historical play that represents a time long gone as opposed to a band. Actors change for each character, costume changes,wigs n props. But it is a fine line they are walking here.
Most telling quote: "I'm glad I went, but next time, I'd rather listen to Genesis albums on the couch and have a glass of wine"
I get that, but I might want to give them one more try.  Setlist here
So, that wraps up the spring.  12 shows, 1200 miles traveled.
Cats under the stars my friends, cats under the stars.